It's official! I'm ready to give up on my house. I'm not sure what was the trigger. Some possible suspects:
– the 100 or so unmatched but clean socks
– ditto for underwear
– the perpetual toothpaste stains in the kids' bathroom sink
– the numerous bottles of shampoo and bars of soap the kids bring home from Grandma's
– the almost complete, but not quite finished 1500 piece puzzle in the family room
– the bags of swag from the National Tween Summit
– the picnic cooler fom summer swim team lying in the toy box
– the no longer functioning dust buster, next to the brand new dust buster I won from TypeAMom
– the books…my goodness…the books
– the dust — everywhere
– the crumbs on the kitchen floor and the nagging thouht of "I should Swiffer the floor"
And the laundry, the ever present, neverending stack of laundry. Sometimes I stand on my laundry and get a perspective of what it would be to be 5 inches taller. Yep, I let it pile up that high.
Speaking of cleaning, I sampled Clorox Green Works. (Free sample provided for me to try. Want to try it? See giveaway below open to U.S. residents, which ends 10/21 ). I tried it on a tough load of wash…our Outdoor Education Camp clothes. Let me tell you the clothes were sweaty, grimy, and dirty. Clorox Green Works cleaned the dirt right out. The wash was sparkling. Now if I could just clean the dirt out of the wheels of my suitcase I would be all set. I know, I know we're not real campers — real campers would carry a huge backpack! Hi Ho, it's off the camp we go!
Would you like to win Green Works Laundry Detergent, Green
Stain Remover, and a Green Works Laundry Bag?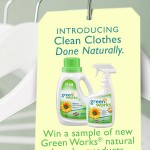 – Leave me your worst cleaning nightmare.
– Subscribe to this blog via reader.
– Subscribe to this blog via e-mail.
– Tweet this giveaway and leave a link.