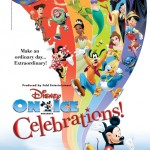 I have taken my family to see the circus twice — a fantastic, worthwhile experience. Disney on Ice has been on my "let's see it" list for as long as I can remember. My daughters have each ice skated at birthday parties. We love the winter Olympics, especially the ice skating. Disney on Ice always seemed like a natural fit, but somehow we never got around to going. Moms, you know how it goes!
Well, here I am with a kid, a preteen, and a teen and I have one overwhelming thought…I need to take my children to see Disney on Ice right now!
Enter MomCentral! I was asked to get the word out about Disney on Ice. In return our family will get tickets to see the show at the Patriot Center in Fairfax, VA. Win!
As a bonus, I have a 4-pack of tickets for one lucky family in the DC/VA/MD area. If you would like to go to see Disney on Ice on October 22 at the Patriot Center in Fairfax, VA:
– Leave me a comment on the most fun place to visit in DC. I'm always looking for somewhere to take my family.
– Subscribe to my feed. Leave a comment.
– Subscribe via e-mail. Leave a comment.
– Follow me on twitter — although if you just clicked over from twitter, then leave me your twitter name and I will follow you!
– Tweet about this giveaway: Win a family 4-pack of tickets from @MusingsfromMe to see Disney on Ice at the Patriot Center, Fairfax, VA: http://tinyurl.com/ygbl6mr
Worried you might not win? You can order tickets!
Disney On Ice Coupon Code Details
– The coupon code is MOM — four tickets for $44 Monday-Friday, and $4 off tickets for all weekend performances.
– The tickets can be purchased from http://www.ticketmaster.com and by entering the MOM code in the "MC promotion" box when purchasing tickets.
– Minimum purchase of 4 tickets required; additional tickets above 4 can be purchased at $11 each during the week and $4 off on weekends.
– Offer not valid on Rinkside or VIP seating.
– Cannot be combined with other offers. Service Charges, facility & handling fees will apply.
This offer is open to residents of DC, MD, and VA who are close to the Patriot Center in Fairfax, VA. Giveaway ends Thursday, October 15 (date change). A huge thanks to MomCentral for providing tickets for our family to see Disney on Ice.