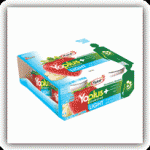 Hectic is the way we roll. Rush to get up. Rush to get the school bus. Rush to make lunches. Rush to get work done before kids get home from shcool. And then there is the afternoon rush of homework, activities, dinner, freetime, books, bathtime, and bedtime. We. Never. Stop.
In spite of the rushing, I want to provide balanced meals for my children, especially lunches. In the early days of toddlers and preschoolers, I would buy the character yogurts. I had a reluctant eater who would eat a Trix Rabbit yogurt. I had another kid who devoured GoGurts. Now that I have a kid, a preteen, and a teen, I want to provide more nutritious yogurt selections. Enter Yoplait.
Yoplait provides the nutrients that my kids need in flavors that they will eat. In fact, I often take one of the children grocery shopping, so that she/he can select flavors that everyone in the family will like — well not everyone as Coach Dad is not a yogurt eater. Some family flavor favorites…key lime pie, cherry cobbler, cinnamon roll. Mmmm…
To help you maintain a healthy and balanced lifestyle, I have a "Get Healthy" gift pack that includes a stylish sports bag, sports towel, ear buds, and two free coupons* for any flavor of the new YoPlus Light yogurt.
*Please note: These free coupons are not valid in Louisiana, Nevada and North Dakota.
Additionally, you can now download a $1.00 off coupon for YoPlus Light here: http://bricks.coupons.com/bstart.asp?o=57800&ci=1&c=GM&p=4XeBjIEi
To enter this giveaway:
– leave a comment with your favorite flavor of yogurt
– subscribe to this blog by reader
– subscribe to this blog via e-mail
– tweet this giveaway and leave a link
This giveaway is open to U.S. residents only. Giveaway ends Wednesday, October 21. I was provided with the Get Healthy gift pack and coupons.