I participated in an online webinar over the summer with Peter Walsh. Many great back-to-school organizational tips. In this house, we could use all the organizational help we can get.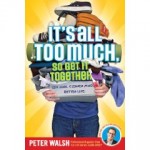 In my quest to make my house a "clutter-free zone" rather than the "Hoarders" poster child house, I was excited to get my hands on a copy of Peter Walsh's It's All Too Much, So Get It Together.
This book is ideal for the mom or dad of a teen or even preteen. As we all know the teen bedroom can be as neat as a pin, but might just be a cluttered nightmare.
My kids' rooms by the numbers:
no floor space visible
any attempt to vaccum will result in a broken vacuum and the irritated pout of a teen who is annoyed that her favorite ipod headphones are now wrapped around the vacuum
laundry on the floor… now the question is "clean" v. "dirty"
neatly folded clothes jammed in drawers. Mom weeps silently at the time spent sorting through, purging, and labelling drawers in said teen's room
assorted detritus and other flotsam and jetsam on the floor, underneath the bed, on the bed, on the desk, under the desk*
Peter Walsh lays out step-by-step how to tackle clutter.
Part 1 — talk about the clutter.
Part 2 — step-by-step guide to decluttering your space.
Part 3 — Applying these skills to the rest of your life — everyday, school, family, and future.
Peter Walsh breaks down the chapters in to manageable chunks. You can pick up the book, read a relevant chapter, declutter, and come back to the book for more advice. Each chapter also includes a quiz. Peppy graphics and crazy typefaces make it a good read for teens and their parents.
The book sells for $9.35 on amazon.
Follow Peter Walsh on Twitter and Facebook.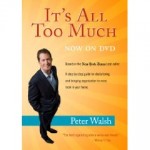 Walsh has a DVD coming out — It's All Too Much. During the video, Peter takes viewers room-to-room within a home offering ideas, tips and solutions for common clutter challenges. As an organization expert, author and regular TV guest, Peter is known for his positive, fun-loving approach to organizing one's home, life and mind, which is brought to life in his new DVD. Take a look at the video preview at http://peterwalshdesign.com.
I was given a copy of Peter Walsh's book to review.