I always feel disappointed when I don't read a book in time for Book Club. I'm in two books clubs right now: a real-life Book Club and the SVMomsBookClub.
The real life Book Club and I are not getting along well. I want to go to meetings, but I can't seem to get the book read or if I do get the book read I can't find babysitting. The other issue is the book selections. We are accustomed to letting the host choose the book. I don't know about this anymore. Lately I have not been as interested in the books chosen. No offense to any of the members of this Book Club.
The SVMoms Book Club is another matter. I love this group. It is all virtual. I read the book. Write a post about the book. Someone links up all the posts in on central post. About every month or two, the author will visit all of our posts. Love it!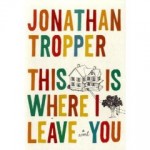 But, back to not reading the book… I finished, but was not ready to post about Jonathan Tropper's This Is Where I Leave You. I hate missing a deadline. Hate it! I'm up writing this post at an unpostable hour so that I can enjoy Christmas without a ton of posts hanging over my head.
I loved Tropper's book. I wasn't sure about it at first since the first couple of scenes are a little graphic, but the book got better…much better.
The lead character is an ordinary guy from a vaguely dysfunctional family. His life is humdrum until his wife has an affair with his oafish boss — a shock jock. Judd Foxman's life is going badly when he learns of the death of his father.
Judd's atheist fatherleft instructions in his will that all four of the Foxman children will sit shiva for their father. For the now grown children the prospect of spending 7 days with each other and their mother is terrifying as well as inconvenient. Three of the siblings have to put their lives on the backburner. The youngest son of the family with the least family ties is drawn back in to his role as the baby of the family.
Day in day out the family observe the Jewish mourning ritual. I don't want to spoil the ending. Tropper tells a good, involved, yet realistic about a family coming to grips with death and learning to understand each other.
I was given a copy of the book for review.