Disclosure: I was sent a pair of slippers to facilitate my review. Links are to my ShareASale affiliate account.
"Now is the winter of our discontent, made glorious summer by this son of York." I'm embarrassed to say that I had to google this quote as I couldn't remember which play it is from. It's from Richard III. I thought it was Hamlet. I need to mail my English degree back ASAP!
But back to the quote for a minute. This winter has been the coldest winter I can remember. I'm in Maryland and by March we are well in to spring weather. Not so this year. It is bone chillingly cold. The wind is fierce. And the snow! Let me tell you about the snow. We are on snow day 9 from school…I think. The kids have missed more school this year than in the last two years combined, which were both mild winters. I love a good snowfall, but even I am OVER the snow.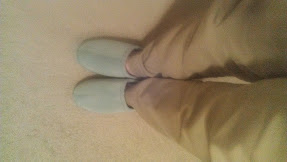 Our home heating system is struggling to keep up with this frigidly cold weather. My husband makes a fire each night to take the chill off, something he rarely does during the week. We've dug out sweaters. Wrapped ourselves in blankets. And we are all wearing bedroom slippers. Yes, it is that cold in our usually very warm home.
The kids get slippers from Santa each year. My husband and I each have a pair of slippers, but we hardly ever wear them. Not so this year. This year I have worn slippers non stop. So it was very timely to be asked by Nature's Sleep to review a pair of Closed Toe Slippers.
I have not had these Nature's Sleep slippers off my feet since I got them. They are so comfy and cozy. What I like about the slippers, is that they are made of terry cloth and have a sturdy sole. Not to mention that the slippers have the same memory foam as Nature's Sleep memory foam mattresses. The slippers I was sent are a very pretty Pale Blue color. Visit Nature's Sleep at
http://www.naturessleep.com
to learn more about the range of nature's Sleep products includes mattress, toppers, pillows, foundations, slippers, and even pet beds. And while you are over at the Nature's Sleep site, check out the awesome winners in the
Art of Sleeping contest
!
Nature's Sleep Slippers are available in:
Two styles: Closed Toe Slippers and Open Toe Slippers.
The Closed Toe Slippers are available in Pink and Mocha and are sold for $30.
Open Toe Slipper are available in Pale Blue, Lavender, and Mocha and are sold for $25.
Made of the same high quality genuine Next Generation Memory Foam as Nature's Sleep mattresses.
Provide pressure relieving comfort all day long.
Naturally conforms to your foot in cool comfort.
Distributes weight to reduce pressure points and improve circulation.
Ideal for indoor and outdoor use on multiple surfaces.
Available in S, M, L, and XL.
Have an upper/inner sole made of 80% cotton/20% polyester; a lining 100% polyester; a thermoplastic rubber bottom.
Designed in the USA, Made in China
Nature's Sleep Memory Foam are CertiPUR-US® approved.
Do you want to keep your tootsies warm? Complete the Rafflecopter to enter!
This contest ends 12:00 a.m., April 10, 2014. You must follow the rules to be eligible for a prize. The winners will be emailed and will have 48 hours to claim their prize. The giveaway is open to Continental US only.