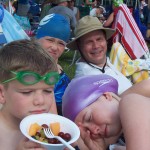 My teen has been on the swim team since a teeny tiny 2nd grader. She wore almost the same size swim suit as her 5-year-old sister. Then and now she is skin and bones. Hates cold water. The swimming pool on an afterschool afternoon in May swim practice is not her idea of fun. No with a capital NO.
Her idea of fun would be going to the pool and lounging on a beach chair with her favorite novel under an umbrella. Ahhh, bliss. Unfortunately for her she has Mean Mom for a mom. Are you a Mean Mom? I'm one as I require her to do swim team each summer for the following reasons:
exercise and muscle building for the sport she loves — volleyball. Her ability to hit serves has improved exponentially over the years due to in large part to swimming. Swimming 5 practices a week and a meet on Saturday for 8 weeks is a total body workout.
it's a family activity. Even before the kid could swim on swim team, I would tote the baby version of him along to the girls' practices and meets. He would be the first face they would see as they got out of the water from their races.
it's a cheap way to organize summer for kids. $75 per swimmer for a 2-month season. You cannot beat that when summer camps are $200 plus for one week. As I tell my friends, we have swim team each morning and whatever else we do that day is a bonus.
I love a sport that all can participate in: the kid is a 6 and under, the preteen is 9-10, and the teen is a 13 and over. That's swimming lingo for the age groups they swim in or the summer season.
parents have fun too. I've met many moms and dads while waiting during swim practice and meets. I am now communications person for the swim team. I created blog to list the details about our swim team and the fun stuff: photos, swim team pep rally, swim team dinners.
But back to the teen… She's a good swimmer — has been since she was 5 or so. The swim team is a mixed blessing for her as she loves warm weather, wearing flip flps, and cute teen summer clothing, but, and this is the deal-breaker for her. She is thin and being in cold water does not make her happy at all. In fact she has been known to shiver her way across the pool. She steps out of the pool and immediately envelops herself in a towel. I've seen her fantasize about doing swim team practices in a waterproof robe while lying on a motorized raft as she sips a cool drink. Look I didn't make this up…she actually said this!
Today no swim team meet or practice. Tomorrow back to the afterschool practice for the teen. Wish for bright sunshine.