Two summers ago we purchased a wii. We were stuck at home in August…feeling a little sorry that we were not going on a big vacation trip in August. We did go to the beach in June of that year, but August was looming ahead with little planned.
My husband is the original gamer in the Musings from Me family. When I met him in 1986, he had a Commodore 64 computer. Those who only know Mac and PC may be surprised to learn that in the 80s there was another type of computer. It had a teeny tiny harddrive — 64 kilobytes of memory. You typed on a clunky keyboard attached to your TV. There was an external disk drive which held 5 1/4 disks — floppies. Anyway, my husband mostly used this computer-TV hybrid to type college papers, but he did play games. And by games I mean 80s games, like: Pong.
The wii was a complete surprise for the kids. We ran errands to Costco, the party supply shop, and swung by Best Buy. Casually wandered the aisles til we reached the wii. By this time the preteen was jumping up and down with glee.
I do not regret this purchase. We all use it for different games. We all get something different out of the wii. My son is type of kid. I get a kick out of his slashing the air with his wii mote…uh…I mean light saber. The kid gets lots of exercise jumping on and off furniture, running in place, and waving his arms around.
The tween and teen have a more relaxed approach to wii playing. No jumping up and down for them. No sirree. The teen is in her element pretending to be her Animal Crossing: City Folk
character — she looks just like the teen! The tween discovered a new SIMS game — SIMS ANIMALS Africa.
SimAnimals Africa
allows 1 player to:
Interact with exotic animals in the wild
Journey through the jungles and savannas of Africa
Discover wild animals' secret abilities
Solve challenges to unlock items, animals, and levels
Collect unique items to receive badges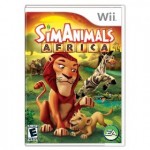 My tween had fun playing with the onscreen safari animals in SimAnimals Africa
. She's an animal lover living in a house with a dad with allergies, a mom who is not fond of animals, and a teen who is a combination of mom and dad. Only her 6-year-old brother would join her on her quest for a pet…any pet…just not a fish. One day when her school had take Your Pet to School Day she said with exasperation "What am I supposed to do? Carry the fish to school in a bucket!"
Giveaway for Musings from Me reader! I have ONE copy of SimAnimals Africa
for wii for one lucky reader. One comment = one entry. Enter now!
– What was your favorite game to play a a child? I loved Snake and Ladders.
– Subscribe to this blog via reader.
– Subscribe to this blog via e-mail.
– Grab my blog button, put it on your sidebar, and leave a comment. If you have a button, let me know and I will add it to my sidebar.
– Follow me on Twitter.
– Tweet this giveaway: @MusingsfromMe is giving away a Sims Animals Africa for wii game! Enter now: http://tinyurl.com/y9ywdho!
– Fan me on Facebook.
I was given the game for review. This giveaway is open to U.S. residents only. Giveaway ends January 31, 2010 at 11:59 p.m.