The DS? I have no recollection the exact moment when I first saw one. But, I probably saw a kid sitting on the sidelines playing with one at (a) basketball practice, (b) soccer practice, or (c) swim practice. Practice can be long and boring for a younger sibling.
My youngest started attending his sister's sports practices when he was about 2 months old. I took him to t-ball practice on a rainy day in May '03. He was a tiny baby — well actually he was a big baby, but compared to all the 5-year-old's playing t-ball he was a munchkin.
I knew I would have to take him to practices, games, and activities, so I made sure that the stroller I purchased had very large wheels, a seat that reclined all the way back, and a snack tray for him and a coffee cup/water bottle tray for me. I. was. prepared. for. anything. when. I took. my. baby. to. a. sports. practice.
Stroller days are long gone now, but I still have to bring my son to volleyball practices and all-day tournaments. It would be cruel and unusual punishment to make him sit on the sidelines for hours. We usually watch a game then run an errand together. The Nintendo DS Lite
is his go-to toy on the sidelines of the game. He could play for hours…I don't let him, but he would like to!
My tween tested SimAnimals Africa
for wii. I have a copy of Sim Animals Africa for the DS…read on. This game allows 1 player to:
Interact with exotic animals in the wild
Journey through the jungles and savannas of Africa
Discover wild animals' secret abilities
Solve challenges to unlock items, animals, and levels
Collect unique items to receive badges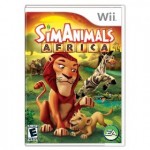 My tween had fun playing with the onscreen safari animals in SimAnimals Africa
. She's an animal lover living in a house with a dad with allergies, a mom who is not fond of animals, and a teen who is a combination of mom and dad. Only her 6-year-old brother would join her on her quest for a pet…any pet…just not a fish. One day when her school had take Your Pet to School Day she said with exasperation "What am I supposed to do? Carry the fish to school in a bucket!"
Giveaway for Musings from Me reader! I have ONE copy of SimAnimals Africa
for DS for one lucky reader. One comment = one entry. Enter now!
– What was your favorite game to play a a child? I loved Snake and Ladders.
– Subscribe to this blog via reader.
– Subscribe to this blog via e-mail.
– Grab my blog button, put it on your sidebar, and leave a comment. If you have a button, let me know and I will add it to my sidebar.
– Follow me on Twitter.
– Tweet this giveaway: @MusingsfromMe is giving away a Sims Animals Africa for DS game! Enter now: http://tinyurl.com/ybmjgk8!
– Fan me on Facebook.
I was given the game for review. This giveaway is open to U.S. residents only. Giveaway ends January 31, 2010 at 11:59 p.m.