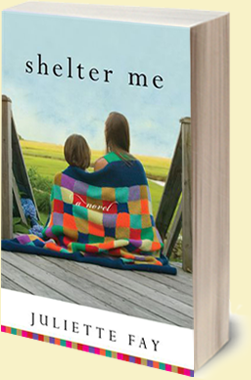 I loved this book! I know, I know what you are going to say. "She was sent a free copy, so of course she will like the book!" Here's the thing though…you can't read a long and involved story like Shelter Me just for the sake of a free review copy. You have to give a little of yourself to the book. You need to let yourself engage. The book kept me engrossed. I wanted to know how the story evolved for all the characters.
I fell for Shelter Me
by Juliette Fay — hook, line, and sinker. It was the type of book I read at the beach, when I got back from the beach, before going to dinner, in the car driving to dinner at the beach. We were joined at the spine for a solid week (pun intended). I read part at the beach and part at the pool. In fact it was one of the books that I readat the pool. My kids are no longer babies, so I get to sit on a lounge chair and read a book. Squee!
Shelter Me
begins with a death — a sad, tragic death of a man who was not wearing a bike helmet. The centers around the young wife and mother who must continue to provide daily care to her children when all she wants to do is not live any longer. Yes, the circumstances of the book are tragic. The death of a young person is impossible to fully comprehend.
Janie LaMarche is stubborn, determined, and a little standoffish. She does take too kindly to all the people rallying around to help her. She spurns the parish priest who is determined to provide support to her. She begrudgingly accepts her aunt's help, but is not happy with her aunt's advice and counsel. She is angry that her mother has decided to return to her home in Italy.
Life is not treating Janie well. As I read through the book, I wondered how it would all end. Was the young priest too involved? Why did the handyman come back to do the job? How would her young children react? The baby…would she remember her dad? The little boy…would he start acting out at school?
I would highly recommend this book to you. Shelter Me would be a great Book Club book — many topics for discussion.
For more information on Juliette Fay, go here. Are you on Facebook? Fan Shelter_Me.