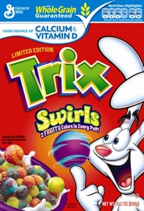 The new box of Trix Swirls
®
was on the pantry shelf for a nano second before the preteen found it. She has a nose for the sweet things. I implored her to please save some for her older sister and younger brother. She gave me a look of "Who me?" I gave her a look of "Yes, you!"
Trix Swirls® combines two mouthwatering fruity colors into every fun puff that will satisfy kids´ taste buds and spark their creativity! A good source of calcium and vitamin D, the Trix Rabbit won´t be the only one who can´t resist these fruity combos, which include lemony green, berry berry blue, and rasporangey orange!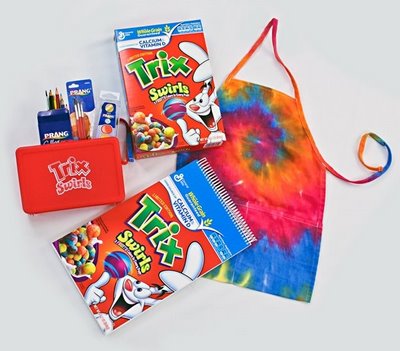 The cereal was a hit. The family verdict was a huge thumbs up. I think the box was devoured in 2 sittings — breakfast AND breakfast for dinner.
I was also given a Trix Swirls®

Creative Kid gift basket that included a sample of the product along with a colorful apron, a set of watercolor pencils, watercolor paints, brushes, a sketchbook, and an art supply box.
I have two art supply baskets from Trix Swirls® for two of my readers. Leave a comment letting me know how your children think the Trix Swirls®
came to be: Did the different colors dance with each other? Did the colors bump in to each other?
For extra entries:
– Subscribe to this blog in a reader.
– Follow me on twitter @musingsfromme. Leave a comment with your twitter name and I will follow you.
– Tweet about this giveaway and leave the url of the tweet.
Thank you to General Mills and My Blog Spark for providing a sample and the art supply basket. This giveaway is open to U.S. and Canadian residents. It will close August 23 at 11:59 p.m. Deadline extended to September 4!