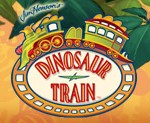 My son and I saw a sneak preview at the American Museum of Natural History — courtesy of PBS. The sneak peak? Dino Train. For some reason I could not persuade the preteen and the teen to accompany us to Dino Train. Odd, huh?
The preteen and teen had fun going to the mall with their dad. I must post about this! Coach Dad detests the mall. The kid and I had a great afternoon together — something I did all the time with him when he was newborn through 5 years old, but since he is a big 1st grader I only see him in the afternoons, evenings, and on weekends. It was nice chatting to him without the household hubbub in the background.
Our time at home is a blur of activities, homework, poutiness, and teenage angst. One-on-one time is at a premium. I need to take my preteen out next. I took the teen out a few weeks ago.
Dino Train is a brightly colored, intricately detailed, and funny depiction of dinosaurs on a quest. A dinosaur family board a train bound for various destinations on a quest to find the family of a dinosaur who hatched out of an egg in their nest. At each stop the dinosaurs learn about the land, the time period, and the dinosaurs living in that time period. Very educational for my son, but fun, too.
My son passed on having a photo taken with Buddy the Dinosaur.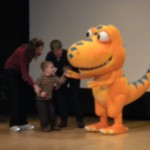 Now Dr. Scott, the paleontologist was another story. We waited for Dr. Scott to sign a poster showing dinosaurs. We waited for 30 minutes…that is how much he wanted to see Dr. Scott.
The event was fun for the kids. I have seen a preview screening for a movie once before — Millions. I took my teen when she was 11. This was a first for my son.
Giveaway for Musings from Me readers! I have a Dino Train CD — not released yet! — a Dino Train luggage tag and a Dino Train badge. 1 comment = 1 entry. Enter now!
– What is your child's favorite dinosaur? Leave a comment.
– Tweet the giveaway: @MusingsfromMe is giving away a Dinosaur Train pack! http://tinyurl.com/ybgl3qu Enter now!
– Follow me on twitter @MusingsfromMe.
– Ssubscribe to this blog via reader.
– Subscribe to this blog via e-mail.
– Follow me on Facebook.
– Fan Dinosaur Train on Facebook.
We were handed a Dinosaur Train CD, luggage tag, and badge by the folks from PBS. I picked up another set for one of my readers. Giveaway open through November 30 at 11:59 a.m. Open to U.S. residents only.