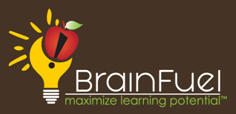 I'm just like the next mom… I want to give my kids the best start in life. I want to instill in them good values. I want to give them the tools they need to succeed. Sounds simple enough, but as a Mom I know that raising healthy, engaged kids presents challenges.
My teen and I go head to head on many issues. The most pressing at the moment is breakfast. I want her to eat a nutrititious breakfast. She wants to look her best. The two of us cannot come to an agreement. I want her to have enough time to eat. She would rather change outfits. I have started waking her up earlier. This helps, but I also want to let her know that without a healthy breakfast she will not do as well in school.
What else can I do to help my child? Giving your kids an extra edge may prove easier than you think thanks to a new web-based program called BrainFuel – designed to maximize our children's learning potential. BrainFuel4Kids.com aims to help take your child's learning to the next level. Research suggests key changes in diet, exercise, and sleep can enhance cognitive abilities, and BrainFuel thus offers sections like "Brain Food," "Healthy Brain," and "Brain Games," aimed at engaging kids and Moms alike. The site provides us Moms as much benefit as our kids, featuring a forum to give parents a chance to discuss what works and what doesn't with our kids this school year. Some of my favorite features include:
• Explanations for our kids in answer to their complaints, "Why vitamins?!": "The brain is the greediest organ in your body – greedier than the spleen or stomach, even greedier than the heart" and other "why?!" questions.
• Challenging games for kids from Lumosity.com, designed to promote quicker thinking, better concentration, and improved memory.
• Recipes that give your kids the right balances of carbs and protein, and help understanding those complicated nutritional labels.
I loved the section of BrainFuel4Kids about breakfast recipes! I read the section on healthy cereals v. high-in sugar cereals. Food for thought, indeed!
I urge all Moms to check out BrainFuel4Kids! You won't regret it!
I wrote this review while participating in a blog tour campaign by Mom Central on behalf of BrainFuel and received an insulated lunch bag from California Innovations to thank me for taking the time to participate.