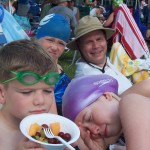 I'm not a fruit smoothie drinker usually. I prefer my fruit intact. If I'm going to have a blended drink, I prefer chocolate milkshake or frozen margarita, but I may have found a third drink to add to my smoothie lineup. I mixed Nature's Peak frozen fruit with frozen yogurt and was wowed by the flavor.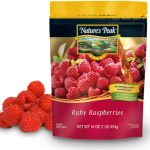 I used Red Raspberries in the smoothie. I was suprised at how far the fruit went. I used just over half of the bag for 5 largish smoothies. And when I say "I" I actually mean my husband. He was cajoled in to making the drinks while I proofread the teen's history paper. He's a good sport!
The smoothies were so creamy. My tween turns up her nose at unusual foods. She was very surprised by how good the fruit smoothie tasted — of course she might have been avoiding homework at the time. My tween is a picky eater. Now my teen could live on a liquid diet, so she was all over the fruit smoothie. I have a feeling this kid would eat baby food still, if I let her!
I have a bag of Wild Blueberries waiting in the freezer for our next smoothie night. I might try Sunburst Mango next or Cranberry Harvest. The flavors all look so good. It's hard to find fruit fit to eat in the winter. We love going fruit picking here in the summer, but miss fresh fruit in the winter.
By the way, the next morning the red raspberries were added to waffles and toaster strudel. Very yummy!
At this time Nature's Peak frozen fruit is currently only available in the following locations:
Florida (All Regions)
New England (All Regions)
New Jersey (All Regions)
Maryland (All Regions)
Virginia (All Regions)
Washington (Seattle Area)
Oregon (Portland Area)
California (Los Angeles, San Jose Areas)
Arizona (Phoenix Area)
North Carolina (South West Area)
South Carolina (North West Area)
Georgia (South East and North East Areas)
Missouri (Northern Area)
Louisiana (New Orleans Area)
Arkansas (Little Rock Area)
For more great fruit products and recipes, check out Nature's Peak website.
I wrote this review while participating in a blog tour campaign by Mom Central on behalf of Nature's Peak and received a sample to facilitate my candid review as well as two coupons and a lunchbag. In addition, Mom Central sent me a gift card to thank me for taking the time to participate.