I love being on the inside looking out. It doesn't happen very often, but when it does I feel like I am having a "Great Day."
Speaking of great days, do you know the band Milkshake? I first heard of the band through a free ticket to a library reading program when the teen was 8 and the preteen 5. The concert — held in the library meeting room — was tons of fun.
Fast forward to 2007, my then-4-year-old found the Milkshake Happy Songs
CD. I was happy that he had discoverd the talented former duo now 6-piece band.
Milkshake was then Lisa Matthews and Mikel Gehl. Now Milkshake is a 6-piece band. Hi Shep, Tom, Cord, and Brian!
At the beginning of this summer I saw a sign, read a tweet, looked at an ad…who knows! But, I found out that Milkshake was playing at a mall in Frederick. T-ball was winding down and swimming was just geting started — the perfect time to take my son to a Milkshake concert!
The concert was fantastic! Many other people had the same idea so the area around the stage was packed. The best spot to watch a concert is at the side or back of the stage — the stage was set up in the center court of an outdoor shopping mall. My future drummer loved watching the drummer do his thing! The drummer isn't usually visible at a concert. Hi, Tom!
I think we now qualify as Milkshake groupies as we got all band members to sign our CDs and programs. We've followed the band from Damascus library to Frederick to Noggin and now to SiriusXM.
Yes, SiriusXM! Tom the drummer was hilarious at Milkshake's Sirius XM radio show taping. Due to the loudness of the drums during taping, the drummer stands alone like the cheese. Speaking of cheese… Tom the drummer made the kids laugh with his cheesy jokes.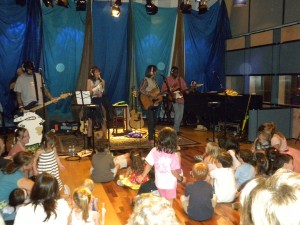 Lisa, Mikel, and the band kept the crowd of kids entertained. It was a Great Day!
I got my hot little mitts on an advance copy of Great Day! It is good! Want a copy? Here's how to enter — leave a comment with each entry:
– Fan Milkshake on Facebook: http://facebook.com/milkshakeband Leave a comment.
– Listen to Milkshake's new songs on the Music Player on the http://facebook.com/milkshakeband Come back and let me know what your favorite song is. My fave is the "Statue of Me."
– Follow me on twitter: @musingsfromme. If you want me to follow you, leave a comment with your twitter name and I will follow you back.
– Subscribe to the blog in a feed reader or via e-mail.
Don't want to wait to see if you won, then preorder a copy. Click Great Day
.
Thank you to Milkshake for the CD and the chance to do a review. Contest ends September 28, 11:59 a.m.