I was thinking about my ideal day would look like the other day. You know since Mother's Day is on the horizon. Probably thought about what my day would look like in between loading the dishes and stepping over the laundry pile and getting ready to drive to volleyball.
When I had a moment I collected my jumbled thoughts in to this list. My ideal day would have the following elements…
sleeping late…I must admit I get to sleep a little later these days now that the children are older. One of the many perks of not having a baby or a toddler or a preschooler
breakfast in bed prepared by a kid or two. My teen has passed the "making breakfast for mommy" mantle to the tween. The teen once made chocolate donuts for me…from scratch. No deep frying involved thankfully. She poured chocolate syrup on a handful of Cheerios. It was very creative! I will eat anything the kids prepare…dry cereal and cup of water, bread without butter and a banana, or my favorite breakfast in bed meal…a yogurt and juice box.My tween knows how much I love yogurt. The tween and kid will eat anything I don't eat. My breakfast tray is as likely to contain a Rice Krispie treat as a bagel and cream cheese.
me time during the special day to sleep in (see above) or read a book or just watch TV during the day. Is there anything more decadent than catching a movie or a TV series that you like during a time you could be busy with something?
a dining experience that does not involve being anywhere near the kitchen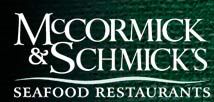 McCormick & Schmick's have Moms in mind with their upcoming Mother's Day promotion. Whether you are a mom who loves to cook or a mom who doesn't, McCormick & Schmick's is a place where moms can enjoy a meal in a relaxed atmosphere. No dishwashing necessary!
Guests who make a Mother's Day reservation before April 30th will be entered to win Mother's Day Brunch for free for four people! Moms also get a complimentary dessert (choose from Strawberry Shortcake or Crème Brulee) on Mother's Day. Mmmm.
Make your Mother's Day reservation by April 30th for a chance to win Brunch for Four! Enter to win a Mother's Day Brunch here.
The fine print: No purchase necessary. One winner per participating location, with valid reservation including phone number and email address. Prize includes brunch for four people on Mother's Day, May 9, 2010, up to $150. Alcohol & gratuity not included.
Want a chance to win a McCormick & Schmick's $25 Dining Certificate?? My husband and teen had a Daddy-Daughter Lunch recently at M&S you can read about it here. Leave a comment or comments below for a chance to win a $25 Dining Certificate. Note: The certificate can be used at McCormick & Schmick's and M&S Grill. Enter now!
What was your favorite kid-made present or kid-orchestrated event? My teen puts on a movie night complete with snacks for our family.
Follow me on twitter. Leave a comment.
Subscribe to my blog via reader. Leave a comment.
Subscribe to my blog via e-mail. Leave a comment.
Friend me on Google Friend Connect. Leave a comment.
Fan my blog on Networked Blogs. Leave a comment.
I was not compensated for this post. Giveaway is open to U.S. residents only. Giveaway ends April 30, 2010, at 11:59 p.m.