I started writing for TypeAMom almost a year ago. In fact here's one of my first articles on homework. Almost a year later I am now the Preteens Editor at TypeAMom. I write from the experience of surviving one preteen and gearing up to get another one through this stage. Parenting! It's a fight to the finish, isn't it? Survival of the fittest.
As a newish blogger, I read with interest all the posts about BlogHer and the other blogging conferences. The sessions. The networking. The swag. Not so much the fighting and bad behavior of some bloggers. But, everything about these conference sounded right up my alley, but then there was the sticky, shall-not-be-talked about issue of money. I'm earning a little. Now if we're talking winning stuff — I'm on fire with that, but the earning of big $$? No, haven't found the Midas touch yet. So, a blogging conference registration, air fare, hotel, and other expenses = way too expensive for me
Enter Kelby — my boss at TypeAMom. Kelby set up the inaugural TypeAMom Conference for mom bloggers, social influencers, marketing professionals, and guess who? Little old me! That's right Kelby extended an invitation to the conference to TypeAMom editors. With conference registration squared away I was set except for the nagging travel and hotel costs. It's always about money isn't it?
I sent out a call for sponsorship to a few PR people and hoped for the best. The TypeAMom conference is my ticket to becoming a better blogger. Period. I needed to find a way to get to Asheville.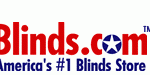 Enter Blinds.com. Blinds.com answered my call for sponsorship. I think I may have heard angels singing…or possibly I was up late again blogging, tweeting, Facebooking, and I was tired. Anyway, Blinds.com is sending me to the TypeAMom Conference! I could not be more excited. I am thrilled to be representing Blinds.com at the TypeAMom Conference!
You can connect with me at the conference by following me on twitter or by finding me at the conference. I'll be the one wearing a lei and a Blinds.com t-shirt. Find me! I have coupons for $10 of Your First Blinds.com order!