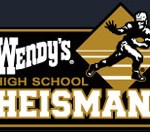 With a kid, a preteen, and a teen, the subject of college admissions is one that can have me wringing my hands at any moment. Are my children doing enough to get in to college? Are they do too many activities and not focusing adequately on school work? We try to strike a balance.
With college admissions growing more and more selective, the Wendy's High School Heisman program presents a great opportunity to help those students who have managed to balance so much, stand out. This award celebrates high school seniors who excel in academics, athletics, and community involvement; in essence, recognizing them for all of the things they already do. Colleges want to see well-rounded students who demonstrate dedication and commitment, making this program especially relevant and accessible.
High school seniors who have a 3.0 average or higher, participate in a school-sponsored sport and contribute to their community can apply at www.WendysHeisman.com, or a high school educator, guidance counselor, or coach can nominate them. As a little reward, the first 41,100 applicants will receive a free Wendy's gift card in amounts ranging from $5 to $50. One male and one female from each high school will win the award and continue on in competition for state and national awards. Twelve national finalists will participate in Heisman Weekend festivities during an all-expenses-paid trip Dec. 11-13 to New York City. ESPN2 will feature all 12 national finalists during the Wendy's High School Heisman Awards Ceremony, which airs Dec. 13. The Wendy's High School Heisman website will display the names of all applicants and individual school winners on October 22, 2009.
I want to give the Wendy's High School Heisman Program the good old college try. In the spirit of the program, I am offering a $20 gift card to one of my readers, simply leave me a comment on one or all of the following items. Don't forget to leave your e-mail address so that I can contact you.
– Leave a comment telling me your favorite item on the menu at Wendy's. My fave is the Taco Salad…I know, I know it is the least healthy salad, but well…Yum!
– Subscribe to the blog via a reader. Leave a comment.
– Subscribe to the blog via e-mail. Leave a comment.
– Tweet about this giveaway. Leave a comment. @MusingsfromMe is giving away a $20 Wendy's gift card in honor of the Wendy's Heisman program! http://tinyurl.com/mfr5vr
Enter now! Contest ends September 30 at 11:59 p.m.
I wrote this review while participating in a blog campaign by Mom Central on behalf of Wendy's High School Heisman program. Mom Central sent me a gift card to thank me for taking the time to participate.