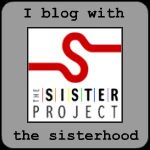 You know you're a sister when…
You can say twitter, tweet, SEO, and BlogHer without getting a blank look or quizzical stare. My IRL friends don't get social networking at all. A couple of friends would rather not receive e-mails…phone calls are preferred. Huh? Let's all go back to the days of Mabel on the switchboard!
You can arrange to meet at 9 a.m. at Panera in Gaithersburg, MD, with two people you have never met and only know by blurry avatars, but feel completely safe and spend the next 2 hours chatting as though you were old friends. Hi, @JessicaKnows and @twincident! Again…IRL friends had pained expressions when I told that story.
You can participate in a Book Club by reading the book at home and posting about it, without all the drama of dealing with IRL friends and their issues.
Sisters look out for each other. Sisters will answer your midnight tweet about WordPress (yes, @ohmariana that would be you!)…add a comment to your less-travelled post…RT your giveaway link…enter your giveaway link for a product that is not exciting at all. Not that I would know anything about a homeopathic remedy for diarrhea. No, not me.
Digital sisters will read your whiny tweet about your husband/kids/in laws and (1) post an encouraging tweet or (2) not tweet anything at all. Sisters do not feel the need to bash you or call you out for being whiny and negative. It's nice to have "digital" sisters who understand.
You know you have a cyber sister when you can go to a meetup at a swanky art gallery where the local bloggers you meet for the first time feel like old pals by the end of the evening. Thank @parentopiadevra for a fabulous evening!
It's ironic that I am writing a post to win a scholarship to TypeAMomConwhen everyone and their mother is jetting off to BlogHer '09. BlogHer just wasn't in the cards for me due to vacation, finances, etc. The Type A Mom Conference is tailor made for me.
As a TypeAMom editor, I tweet, e-mail, and write for people I have never met. I feel as though I know Kelby/@typeamom, Astacia/@mamikaze, and Dianne/@mamasinpajamas, but would LOVE to meet them. This conference will be my first major foray in to the world of blogging. The speaker list is incredible — ladies and a couple of men who are passionate about this industry. Can't wait to see what I will learn at #typeamomcon.
I have been a part of the blogging world since fall of 2008. I may be the only person who thinks that I may have at shot at earning money at this gig. My family certainly aren't seem that supportive. Oh, they love the products that I get to review, but they laugh at me when I explain what I do. My "job" is not considered a job since it does not have a salary or benefits attached. My job is viewed as a hobby. Well, all I can say is if I have to listen to one more conversation about the banking industry or IT or engineering, I may just explode. Why is it O.K. for people to downplay my chosen career? My digital sisters wouldn't do that to me!
You may wonder why I have namedropped the names of bloggers throughout this entry/post. Well, I like to give credit where credit is due. That's the way digital sisters help each other out!
This post was insired by the The Sister Project. Here's a link to the official entry form page on Type-A Mom.