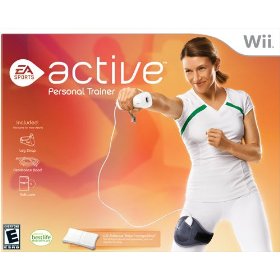 Almost two months ago I participated in the #easactive challenge as an at-home tester. I was borderline obsessed about getting my grubby paws on a copy of EASportsActive by EA. I wrote about my mission to EASportsActive here.
The best part of being an at-home tester was sharing the game with friends. I hosted a giveaway on my blog. I happily mailed one copy to @mclanek. I wonder how she is doing? I must reach out to her and see how her challenge is going.
I had not one, but two copies to give away. Squee! Yep, you guessed it I hosted a house party!
Now let me first say that I have done my fair share of hosting Pampered Chef, Southern Living, and Bath and Body Works parties. You know the ones wherre you invite 50 of your closest friends over for a night of "get out your checkbook." It's a cycle really. Once you host a party, you then have to attend the parties of all of the people who came to your party. Now don't get me wrong I love getting the free products that come with hosting a party. Hey, I guess the home parties were my first step in to the world of product reviews!
The home party was a success. I had a smal turnout, but those that were at the party really wanted to learn about the game. We had a few snacks, some wine, and then it was down to business with the game demo.
The game demo was interesting as I had explored some activities, but had either not known about or not done some others. The person who won the game was very interested in getting it right. She mastered activities that I still haven't mastered.