I was sent a Barilla gift bag complete with an insulated tote, measuring spoon, pasta holder, wooden spoon, assorted pasta, coupons and recipes from Mario Batali. This wasn't my first encounter with Barilla. I met the Barilla reps at Mom 2.0 in Houston. Barilla chefs — not Mario Batali — cooked lunch on the last day. I have never eaten such good food at a conference. Prior to Mom 2.0, Barilla was (and still is) my go-to dinner meal.
Dinnertime is a precious commodity in our house. With kids heading to activities, Dad arriving home late from work, and Mom scrambling to check e-mail and write, dinner time can be rushed. Barilla launched a site called Share the Table to help families make the most of mealtime.
Share the Table encourages togetherness. In the hustle and bustle of family life…especially with a kid, a preteen, and a teen…family time can be fleeting. With summer in full swing we are eating more meals together…even lunch.
I love pasta. I tried to make pasta meals that the kids will eat. I like to add a little something different each time I make a pasta dish. Some meals are a hit, and some well… I try!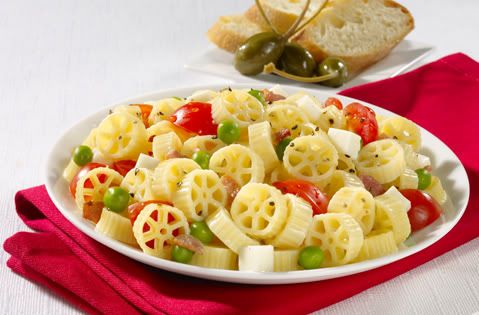 One of the recipes I tried involved Barilla Piccolini or Mini Wheels pasta. Cute and tasty. Small bite-sized pieces of yummy goodness. I added tomatoes, too.
The Barilla share the table site is chockfull of recipes, tips for bringing the family to the table, and Barilla's Pasta Friday Sweepstakes. By sharing your family's meal experience you could win a Barilla meal.
I wrote this review while participating in a blog tour campaign by Mom Central on behalf of Barilla and received products necessary to facilitate my candid review.