Spring is a time when kids go wild. Some children have a hard time sitting still in circle time at school. Homework is the last thing on many children's list of things to do. Summer seems like it is around the corner, and yet June seems soooo far away.
Our house had Spring Fever badly this year. The kids were out of school for 11 days in February due to record snowfall. The winter quarter passed by in the flash. By the time spring rolled around, we heard that the school year would be extended. I know I was crushed. My kids were already super antsy about summer coming and now the school year would be in full swing until June 23!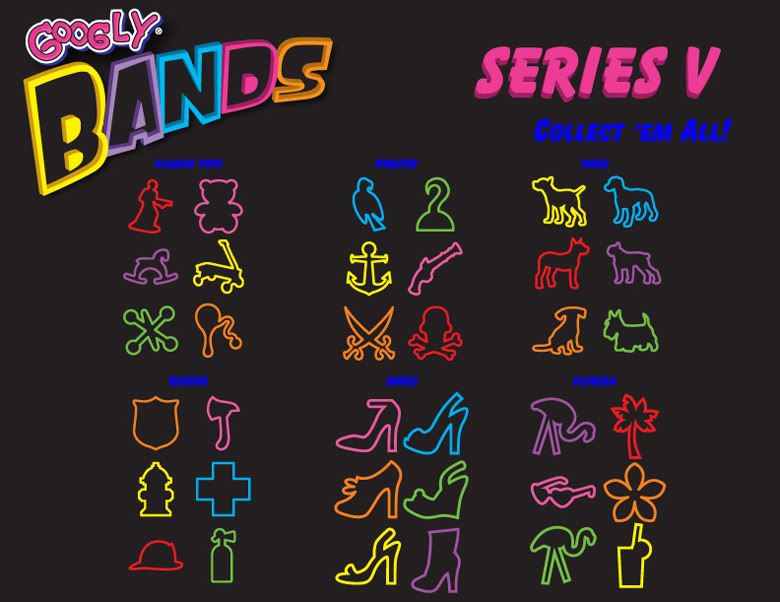 Enter Googly Bands… Googly Bands saved the day in the Musings from Me household. My 11- and 7-year-olds needed a "carrot" as an incentive to do their homework with a minimum of complaints. The nights were getting lighter, but the homework load was not letting up. I used Googly Bands to encourage them to do their homework and do assigned chores. It worked…I mean Googly Bands worked!
Homework rewards. Chore incentives. Good deed prizes. Googly Bands are the perfect reward for the elementary and middle school student, ev even preschooler and teen, too. I have seen a few adults wearing Googly Bands!
Googly Bands are stretchable, wearable, collectible, and trade-able bands. If you see a group of tweens and kids, and even teens, chances are you will see one of the kids wearing a Googly Band!
New at Googly bands — Series V bands features the shapes of Classic Toys, Pirates, Dogs, Rescue, Shoes, and Florida.
Series IV bands…Hollywood, Pets, Body Parts, Text Messages, Soccer, and Wonders of the World.
Series III…Fruits, Cowboy, USA, Reptiles, Sports, and Tools.
Check out Googly Bands for many more cool bands!
Late-breaking news from Googly Bands!
Googly Bands are retiring all Series 2 bands. I would like to invite you and to join me at the Official Retirement Party this Thursday, July 15, at 2 p.m. PST. Party is tomorrow! Rules will be posted at 2pm at Facebook.com/googlybands. Googly bands will give out tons of prizes live at the hour-long party. Hope to see you there! Bring your kids to the twitter party!!