As young parents-to-be, my husband and I talked about the delivery, the first few days at home, breastfeeding, and everything else that young parents think about when contemplating the birth of their first child. We agreed on some issues and disagreed on others.
One topic of discussion was the baby's room. We had moved in to our house the summer before I got pregnant. All the rooms in the house were that bland builder's gray off-white color. We both could not bear the thought of the baby staying in an empty and dull room. It was fun to both agree that the baby's room needed color and usable furniture. We wanted the nursery to be inviting, but calm.
Before moving in to our newly built house we lived in a tiny townhouse. We had no extra furniture lying around. Shopping for furniture for the baby's nursery was fun for both of us.
It didn't take us long to choose a Winnie the Pooh border and matching valance, diaper stacker, and lamps. But, what to put the lamps on? And a crib! We needed a crib.
My husband can get overwhelmed with the minutia of shopping that I revel in. Give me the impossible task of finding a hard-to-find item in store at a reasonable price and I am a "mom on a mission."
We found a furniture store that we loved, which was not far from our home. We visited that furniture store over and over again. As young parents-to-be we had nothing better to do!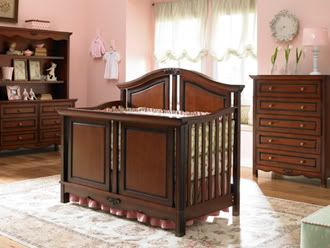 After much ooohing and aaahing, dithering about style, fretting over wood type, and consternation over furniture placement, we found our style of baby furniture. I couldn't wait for the crib, dresser, and nightstand to be delivered.
I recently heard about Bonavita. Bonavita manufactures nursery furniture for your baby's room. The furniture — built to last — will take your baby from infancy through adulthood. Bonavita offers furniture collections to suit all tastes.
Bonavita was one of my sponsors at BlogHer. The opinions expressed in this article are my own.