Buzzed Driving IS Drunk Driving.
I had a car at college for my last two semesters of college. It was fun to be able to get in the car and go home for the weekend. Before I had to arrange a carpool or have my parents come pick me up for the weekend. There were drawbacks…paying for gas was costly…moving the car from one side of the street to the other on street cleaning day, but all in all I loved the freedom of having my own wheels.
One night will stand out for me. I drove to a friend's off-campus house for a party. I left the party in daylight…but I was definitely a little buzzed. I could walk in a straight line. I thought that I was thinking rationally until a friend followed me out of the party and told me I should not be driving. I was offended. I *thought* I was OK to drive, so who was this friend to make a decision about me!
I did not drive back to my dorm. I walked home, didn't I? I can only vaguely remember this incident. How did I get my car back? Did I walk back to the house the next day? Did someone drive me home in my car? I have no idea.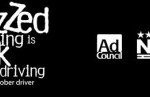 Alcohol is funny that way, isn't it. You *think* you are in control but alcohol is in complete control ALL THE TIME.
Please listen to Emily's story about how Buzzed Driving changed her life. Watch on YouTube.
The National Highway Traffic Safety Administration (NHSTA) and the Ad Council are asking everyone to drive smart this holiday season and to pledge not to drive buzzed. Follow Buzzed Driving on Twitter (@buzzeddriving) and Facebook (http://www.facebook.com/buzzeddrivingisdrunkdriving) to get the latest updates and news. You can also visit the Buzzed Driving website (http://buzzeddriving.adcouncil.org/) where readers can sign a pledge to not drive buzzed, play an interactive game which demonstrates the difference between buzzed and drunk, and hear personal stories from people who have driven buzzed.
Have a safe and happy New Year, and remember that buzzed driving IS drunk driving.