We needed only one crib. Three kids. One crib. We survived…just barely.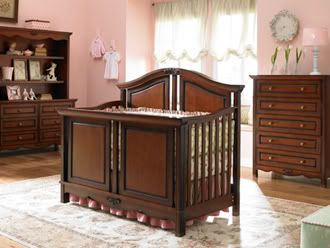 The oldest child loved her crib. She kept all sorts of stuffed animals, blankies, and assorted toys in her crib. She loved napping. With minimal fuss we got her to sleep each night. She was a dream sleeper.
Our dreamy sleepy time with our oldest came to a roaring halt when we transitioned her out of her comfy crib in to her big girl bed. We prepared her for the transition by talking to her, reading her stories about other little children who moved to a big kid bed, and finally letting her pick sheets for her new bed. With princess sheets on the big girl bed, my husband and I thought we were set. My two-year-old had other ideas.
She would not stay in the big girl bed. She bawled when she saw her very own crib set up in the soon-to-be filled baby's room. No amount of explanation from us could make her understand that the baby needed the crib. It was her crib and that was all she cared about.
When she wasn't running around her bedroom she would heave with all her might to get her crib through the new baby's nursery door and back in to her bedroom…where it belonged! Oh how I wish we had had a crib that converted in to a bed!


Bonavita has a furniture collection that grows with your child from infant to teen. One crib. One bed. One child. The Liberty Collection reminds me of a treasured heirloom. The furniture features "rope molding, brass footholds, and decorative appliqués combine with a graceful and simple design for a timeless style that will transcend the generations." The 5-piece Liberty Collection includes the Lifestyle Crib®, 5 drawer dresser, double dresser, nightstand, and hutch. In addition, every item in the collection is available in Charleston Cherry or Espresso finish.
Bonavita's introduction of the Lifestyle crib revolutionized the baby furniture industry. A crib that can easily convert from a crib to a toddler bed, to a daybed, and finally to a full sized bed. The Lifestyle Crib by Bonavita, has since become a standard throughout the industry. Bonavita was recently named a "Consumers Digest Best Buy."
Find out about the Liberty and other Bonavita Collections here.
You can find Bonavita on Facebook, too.
Bonavita tweets, too!
Bonavita sponsored my participation at BlogHer 10.