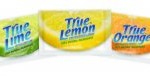 I did a review for True Lemon a month or two ago. All I can say is it was a refreshing and tasty item to review. In fact, I'm drinking a bottle of water mixed with True_Lemon Naturally Sweetened Lemonade Mix. It makes a refreshing drink for someone like me who tolerates, but does not love drinking water.
Giveaway for Musings from Me Readers! Want to try True Lemon? Enter now! One comment = one entry.
I'm giving away a True Lemon t-shirt, a mini-tote packet carrier, and 2 True Lemon products — winner's choice of flavors!
– Fan True Lemon on Facebook.
– Subscribe to this blog via reader.
– Subscribe to this blog via e-mail.
– Follow me on twitter.
– Tweet this giveaway: @MusingsfromMe is giving away a @TrueLemon Prize Pack! Enter now: http://tinyurl.com/y9omfqy!
– Fan me on Facebook.
I was sent a sample pack of True Lemon products when I did the review…slurp… This giveaway is open to U.S. residents only. Giveaway ends December 8 at 11:59 p.m.