When my son was 4, I — or rather Santa — brought him a Leapster. His aunt and uncle purchased a couple of games. It was the toy I took a gamble on. He had asked for a Spiderman playset and a castle, but not the Leapster. I made the "leap" because he had spent a few months admiring/begging to use his sisters' Nintendo DS. There was no way he was ready for a Nintendo DS, but the Leapster looked sturdy and educational.
At 6 years old, he still plays the Leaspter. It's perfect for car trips or quiet moments at home. He started with a couple of easy games, for example, Leapster® Learning Game: Cars
and Leapster Go Diego Go!

but has moved on to games like Leapster Arcade: Number Raiders.
I — or rather my son — had the chance to play with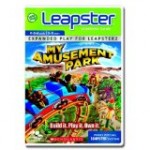 Leapster: My Amusement Park
. This game is ages 6-9. The suggested retail price is $24.99 and it is available in stores now! His verdict: Awesome. He's a person of few words!
The game features thinking games to build and maintain attractions, customization of rides and food venues, game booths that feature 3 fast-paced arcade style games, a bank with money to keep the park running smoothly, and helpful hints and tutorials.
Giveaway for Musings from Me readers! Want to win a copy of My Amusement Park for Leapster? Enter now. One comment = one entry.
– What age did you first start playing electronic games? I'm going to date myself by saying that my first game was the arcade game Ms. Pacman in the 80s.
– Tell me about your favorite dish at the holidays.
– Subscribe to this blog via reader.
– Subscribe to this blog via e-mail.
– Follow me on twitter @musingsfromme.
– Tweet this giveaway: @MusingsfromMe is giving away My Amusement Park for Leapster to a lucky reader! Enter now: http://tinyurl.com/yfmr3qu!
– Fan me on Facebook.
I was given a copy of the game to review. This giveaway is open to U.S. residents only. Giveaway ends December 8 at 11:59 p.m.