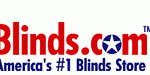 Want to win a $25 gift card from Target? The card is courtesy of my sponsor for #typeamom – @blindsdotcom www.blinds.com
Think of what you could spend with $25. My eyes are getting glazing over with the possibilities. For me, I would buy a storage device, a book, and maybe a Starbucks cold coffee drink. Mmmmm. Sorry, where was I? That's right for a chance to win the card you need to enter on twitter.
Here's how:
1. Go to www.blinds.com and look around. Choose your favorite blind or shade.
2. Send a tweet to me with your favorite Blinds.com blind or shade. Don't forget to include my twitter name @musingsfromme and the hashtag #blindsdotcom in your tweet.
3. When all entries are in, I will announce a winner.
Ready, set, go!