As a new mom I was hyper concerned with safety. Danger lurked around every corner for my baby. I sterilized bottles and pacifiers. I kept medications out of reach. I safety-proofed the house top and bottom. I thought I was on top of everything until I saw a recall for blinds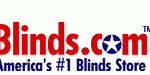 .
We had installed window treatments throughout the house with pull cords to raise and lower the blinds. This particular recall warned that pull strings that were one looped string were a strangulation hazard for babies and toddlers. I quickly snipped all our cords to make each pull string two separate strings. I had no idea that I had neglected the safety of my baby by not looking at the blinds.
In light of the recent news surrounding corded miniblinds, Blinds.com is educating parents all over the United States and Canada about child safety with window blinds. Blinds.com's exclusive Cordless Top-Down Bottom-Up Cellular Shade is as safe as can be while helping you maintain privacy and light control. Your little one will sleep better due to its light-blocking properties. You'll sleep better knowing your child is safe and sound.
Child Safety with window blinds is a very serious issue. Installing cordless blinds in rooms where children play and sleep is strongly recommended, and Blinds.com would like to help you do so.
Check the product out here and read the customer reviewss.