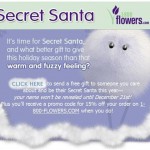 Years and years and years ago, my then boyfriend/now husband sent me flowers at my office. I recall the receptionist calling me. I bounded down the hallway…trying not to appear excited and failing miserably. I was in my second job. Quite a step up but still rather entry level. I was a jack-of-all-trades communications person. My then boyfriend/now husband was an entry-level teacher. Neither of us were what you would call flush with cash, so the flower delivery was a special treat.
I *think* it was for my birthday, but I'm not sure. Perhaps one of our many anniversaries…first date…anniversary of the date he asked me out…first concert…first… Now I actually forget anniversaries, but when I was dating anniversaries or special dates meant everything.
Are you a Facebook fan? Most of my online friends are. Many of my at-home friends. I don't think many at-home Facebookers click on my giveaway links. I am not sure why.
Check out a funny 1-800-FLOWERS.com Secret Santa free application — http://www.facebook.com/1800flowers. Hurry promotion ends soon!
The "warm, fuzzy" gift will be sent to your chosen recipient without revealing who it came from until Reveal Day on December 21st. You and the recipient will receive a 15% off discount code for sending or opening your gifts, as well.
1-800-flowers.com will donate $5,000 to Toys for Tots if the "warm fuzzy" Secret Santa gift is sent 10,000 times, so we're trying to get the word out! The direct link to the Secret Santa application is http://bit.ly/warmfuzzy
Let's help spread the word so that 1-800-FLOWERS.com reaches their 10,000 gift goal and is able to donate to the Toys for Tots program.