I opened a package. The kids were clamouring to find out what was in the box. It was a DVD. Actually there were two DVDs. I didn't recognize the title of the DVD. Boz? Who is Boz? Apparently, Boz is The Green Bear Next Door.
My 6-year-old pestered me for a day or two to watch the DVDs. I finally gave in. He's in 1st grade. He has homework. We have a family policy of no TV until homework is done. You better believe he finished his homework in no time at all!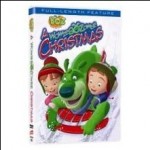 As he watched A Wowiebozowee Christmas, I was interested to see that the other kids wandered in to watch. Soon, all 4 of us were watching a very sweet movie about a family who live next door to a bear who lives in a tree house. The treehouse is gorgeous!
The story is a narration of the brith of Jesus told through the interactions Boz has with everyone. At one point, Boz and the family next door do a Secret Santa gift exchange. I always love being Secret Santa!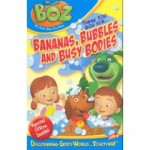 The second DVD is Boz The Green Bear Next Door: Bananas, Bubbles & Busy Bodies
. My son is itching to watch this one, too. I forget sometimes that he loves to watch movies for his age group — he is 6. At times he watches movies for older kids since his sisters are 11 and 13. Though we try to do family movie nights with family-friendly moives, every so often a movie sneaks in to our lineup which is a little old for him. The next time I will make a point to watch a Boz DVD with him in the playroom!
The Boz DVDs are perfect for kids of all ages — educational, fun, and heartwarming. Go to http://www.bozthebear.com/home.aspc to download "My Boz Buddy," plus find MOPs and church/school resources.
I was given the two Boz DVDs for review by MomSelect.