This past week was Cra-Zy. The kids are finishing up all the wacky and time-consuming end-of-the-year projects. One video on the British colonization of India — check. One recitation with a partner of a speech from Romeo and Juliet — check. One study for a spelling test with very difficult words — check. And, the piece de resistance? One 3-day volleyball tournament at Penn State.
My tween and teen were keyed up all week in anticipation of going to the volleyball tournament. The tween wanted to pack before I had done laundry. The teen wanted to pack her props — she likes to get her teammates to participate in skits/a variety show while at the tournament each year.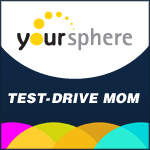 Suffice it to say, the girls did not get on Yoursphere much last week. With homework, projects, and preparation for our road trip to all-things-volleyball, I didn't press the issue. I want Yoursphere to remain. Mom might be a Yoursphere Test Drive Mom, but the kids should play Yoursphere when they want to.
My tween did mention that she played a game in Our World. She wasn't very specific…you know how tweens can be?! But, she liked the game. I asked her if she would play again. She gave it a thumbs up!
Yoursphere is FREE to join!! I have a FREE code for you to use should you decide to sign up your kid, tween, or teen: YSMC-0051. For everyone who signs up using the code I will be entered in to a drawing for a gift card. Remember, it is FREE to sign up for Yoursphere. You can sign up using code YSMC-0051.
I wrote this review while participating in the Yoursphere Test Drive program by Mom Central on behalf of Yoursphere. I received a free lifetime Gold membership on Yoursphere.com, Yoursphere t-shirts, and a $50 American Express gift card to facilitate my review.