Yogurt is a staple in our home. Breakfast…lunch…dinner…afterschool snack…late night snack. You name a meal and we might be eating yogurt at that meal.
My oldest does not like sandwiches…making lunch for her is challenging. One plus is that she loves yogurt. I pack a yogurt in an insulated cooler with an ice pack. The yogurt coupled with a juice bag, fruit, cheesestick, and cookies make for a healthy lunch for her. Yes, I know I could eliminate the cookies for a complete healthy lunch, but she's a kid. The fight over whether or not I should pack a cookie in her lunch is not a battle I am going to fight!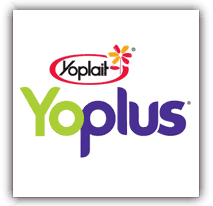 The struggle to prepare balanced meals with an on-the-go lifestyle is one that many moms and dads can relate to. Yoplait has made it even easier to be proactive about your nutrition with the help of newly reformulated Yoplait YoPlus yogurt.
YoPlus now provides three important health benefits in each four-oz. cup:
Antioxidant vitamins A and E (now with 20% of your recommended daily value)
A blend of probiotic cultures & fiber (three grams of fiber per 4-ounce serving) for digestive health
Calcium and vitamin D for bone health
YoPlus is available in six delicious flavors including Strawberry, Vanilla, Cherry, Peach, Blackberry Pomegranate, and Blueberry Acai.
Looking for all the great health benefits of YoPlus with even fewer calories? YoPlus Light is the perfect solution, with one third fewer calories than the original. YoPlus Light is available in three delicious flavors – Honey Vanilla, Strawberry Banana, and Key Lime – all with just 70 calories per cup.
Need a coupon to save $1.00 on one package of Yoplait YoPlus yogurt? Go here for a coupon.
Want to try Yoplait YoPlus yogurt? I have a gift pack for one lucky Musings from Me reader. The YoPlus "better for you" gift pack contains a VIP coupon* for a 4-pack of Yoplait YoPlus yogurt, and an on-the-go lunch container with utensils, an insulated lunch bag, and a pedometer.
What is your favorite flavor of yogurt? Leave a comment.
Follow me on twitter. Leave a comment.
Subscribe to my blog via reader. Leave a comment.
Subscribe to my blog via e-mail. Leave a comment.
Friend me on Google Friend Connect. Leave a comment.
Fan my blog on Networked Blogs. Leave a comment.
Fan my blog on Facebook. Leave a comment.
*The VIP coupon offer for a free 4-pack of Yoplait YoPlus yogurt is not valid in some states, including California, Idaho, Louisiana, Minnesota, Nevada, New Jersey, North Dakota, and Tennessee.
I was provided with the product, prize pack, information, and giveaway by Yoplait through MyBlogSpark. Giveaway is open to U.S. residents only. Giveaway ends April 29 at noon.