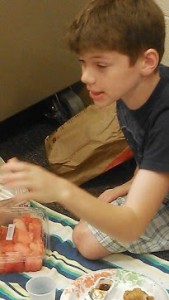 The 4th grade picnic is kid driven. No input is needed from mom or dad. Unlike other picnics where the teachers decide the format or the parent sign up to bring items, at the 4th grade picnic the kids are in charge of the food list.
My son and his classmates decided what they wanted to eat down to the littlest detail. One kid volunteered to bring a blanket. Another brought a cooler of drinks. Yet another brought chips. And one more brought cookies. My son was supposed to bring paper plates, cups, and napkins. And one other item.
When he told me what his group had decided on I was caught off guard. Fried chicken for an elementary school picnic? What about the bones? Would anyone besides my son eat the fried chicken? Do I have any memory of my son even eating fried chicken? I had many questions for my son, but he (I'll give him credit) stood his ground. No, he didn't want chicken nuggets or chicken strips…he wanted fried chicken. We comprised and did boneless fried chicken from KFC.
When I got there the kids, lost no time in eating. There was no chicken left! My husband arrived a few minutes after the picnic began. I told him he could nibble on a biscuit. I left with no leftovers.