My new bio:
Some days I am a stay-at-home mom who is a writer and other days I'm a writer who stays at home — depends on my mood. I can tweet with the best of them. I blog on raising a kid, a preteen, and a teen at Musings. You can also find me at TypeAMom where I am the Preteen Editor. I write about raising a family in the DC Metro area at DC_Metro_Moms. When not writing and blogging, I review products and host giveaways.
So why do I need a new bio? Why do I feel the need to clarify who I am? Well, I am getting the chance to go on an all-expenses paid trip to Minneapolis. This is so thrilling for me. I am going to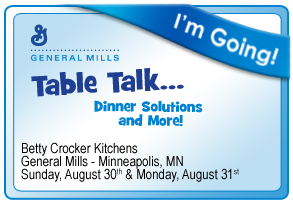 Table Talk sponsored by General Mills!
The topic could not be more relevant for me and my continuing dinner woes. Every night it is "What am I going to make for dinner?" I'm serious I have this conversdation every night. Some nights I feel overwhelmed, other nights I lack essential ingredients, and then there are those nights when I have no intention of making dinner and it is Papa John's or Pizza Hut to the rescue.
I am hoping that I get a few good, solid tips for making dinner time less stressful. I'll keep you posted!