Years ago we had one of those dentist visits where my heart was in my throat. You know the ones. We learned that our 4-year-old had a cavity. I was shocked. She brushed her teeth twice a day under supervision. She took fluoride drops as we are not on city water. She had had regular dental checkups since the age of 2. We "thought" we were doing what we needed to do. But, in matters of teeth you can never be 100 percent in the clear.
The cavity was filled. Thankfully it was in a baby tooth. So far it is the only cavity we have. In the aftermath of "Toothgate," I gutted our pantry of sugary snacks, fruit snacks, fruit rollups, and chocolate bars. I put both sets of grandparents on notice that we were attempting to cut out candy. Well, our efforts paid off as none of the children have had a cavity since — quick, where's some wood? Will drywall do? Touching drywall now!
But, as we all know kids love candy. One of my children is a candy lover. While I could keep the candy to a minimum in the pantry, I wasn't about to ban Halloween candy, Easter candy, Peeps, candy canes, and chocolate bunnies. That would be cruel and unusual punishment, wouldn't it?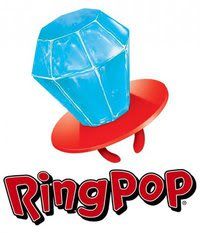 So I did the next best thing. I sought out candy alternatives. I ditched the fruit snacks and fruit rollups in favor of sugar free gum. Still chewy, but not as likely to stick to teeth as a fruit rollup. But, what else could I find?
Our candy issues are now on hold as my tween is now in braces. The kid who devoured her Halloween candy? Well, that kid is petrified of breaking her braces. You can imagine how thrilled she was when I told her of a candy I had found. A candy that she can lick. A candy that will not break her braces…she licks, but does not bite in to the Ring Pop. Sugar Free Ring Pops!!! My tween's verdict…Sugar Free Ring Pops taste like regular Ring Pops!
The tween was eager to taste them. I asked her what she thought. She said the Sugar Free Ring Pops taster like the real ones! Wow! I never expected to hear that. She flavors are good too. I'm not sure what the flavors are as she devoured the pack. Just checked the site…Sugar Free Ring Pops come in Blue Raspberry, Watermelon, and Strawberry. The nutritional deets — only 30 calories per Sugar Free Ring Pop, made with Splenda, and 0 sugar carbs.
Follow Sugar Free Ring Pops on Facebook.
Check out the Sugar Free Ring Pops site.
I was given a pack of Sugar Free Ring Pops for my review. The opinions expressed in this post are my own.