Where oh where are you? When are you coming to cook? My family would love to see your wand, sparkly dress, and most of all your wings. I can just see you floating in to the kitchen. Maybe via back door when a kid comes home from school. Perhaps you'll live in our home and cook all our meals. Whatever the living arrangements…I desperately need a dinnertime fairy. Anyone know where I can find one?!?
All kidding aside. Dinnertime is a zoo in my home. With a parent who works crazy, unpredictable hours at home. A parent who works long hours outside the home. Three children in three different schools and doing three different activities. You can understand why my home is a zoo. It's wild around here when all of us are eating at different times and want different meals for dinner. I never thought I would be a short order cook back when I had a preschooler and two elementary school student. Back then, we ate dinner at the same time each night.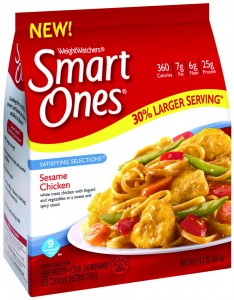 Not so these days. Dinner is two of eating at 4:30 and one eating at 6 and another two eating somewhere in between. We DO eat dinner together as a family a couple of nights a week. Cos you know I'm all about
seizing family time
!
So dinnertime is a moveable feast for us. The SmartOnes meals were perfect for my sports mad tween and teen. Even my husband tried one. We were able to sample a few meals. The SmartOnes meals were just right for the dinner-but-I-need-to-eat-quickly-but-don't-want-to-snack. You know those times when you want to prepare a meal very quickly, but you want the meal to be nutritious and tasty.
Each Satisfying Selections SmartOnes now comes in a 30% larger serving that an 9 oz. SmartOnes tray meal. Find out more…click
here
. Each SmartOnes Satisfying Selections is less than 400 calories and has 8-10 Weight Watchers PointsPlus and 25 grams of protein or more. Good stuff! You can even calculate your points via the
Weight Watchers Points Values and PointsPlus Values chart
.
Wondering where you can find SmartOnes? Click
here
.
Perfect for the family with kids and parents who want to
try something different for dinner
! Prepare in the microwave or on the stovetop. Each SmartOnes Satisfying Solutions meal did not take long to prepare. Love quick dinners! Go ahead and try one of 5 yummy flavors of SmartOnes:
Chicken & Broccoli Alfredo
Chicken with Broccoli & Cheese
Chicken Teriyaki Stir Fry
Sesame Chicken
Zit with Meatballs & Cheese
Like SmartOnes/Eat Your Best on Facebook.
This post is part of a SocialMoms product evaluation, for which I've been selected. I've been compensated for my time with 6,000 My SocialMoms Rewards Points. The opinions expressed in this post are mine and don't necessarily reflect the opinions of SocialMoms or Heinz.