This is a Sponsored Post written by me on behalf of KAO Brands. All opinions are 100% mine.
For as long as I have known my husband he has talked of a trip to Vegas. For our honeymoon we toured Nova Scotia and Prince Edward Island. Beach trips and a trip to the Bahamas, were highlights in our pre-kids days. Once we had kids we tended to stay close to home. Twice we have traveled to Disney. But, Las Vegas remains my husband's must-see destination.
Is Vegas on your list of places to visit? Would you like to win a trip to Vegas? I know I would. I entered the contest — Temptation is Beautiful sweepstakes. This sweepstakes was super easy to enter.
After entering my name, etc., for a chance to win a trip to Vegas, I took a Temptations quiz. Now, don't worry the quiz is very tame and fun. Nothing racy about it.
The prizes are something else, too! Each day a tempting beauty basket will be awarded. Be sure to get in your daily entries. The Grand Prize will be a tempting trip to Las Vegas for you and 3 of your friends with $1,500 in spending money!
Be sure to take the Temptress Temperature — the site's interactive quiz. I took mine. I was relieved to find that my temperature was…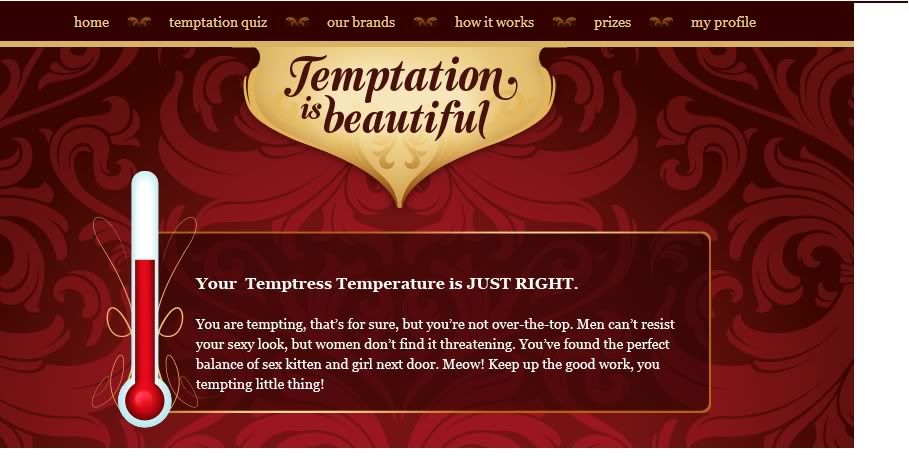 …just right. What a relief!
Don't forget when you finish the Temptress Temperature to share your temperature with your social networks…you know…your buds on Facebook, Twitter, etc. Are you "hot, hot, hot" or "cool as a cucumber"! Let your friends know. If you share your score with your friends you will get bonus entries in the Temptation is Beautiful sweepstakes.
When you enter the Temptation is Beautiful sweepstakes, leave a comment to let me know what your Temptress Temperature was.
Fine print: This contest is for U.S. residents only.