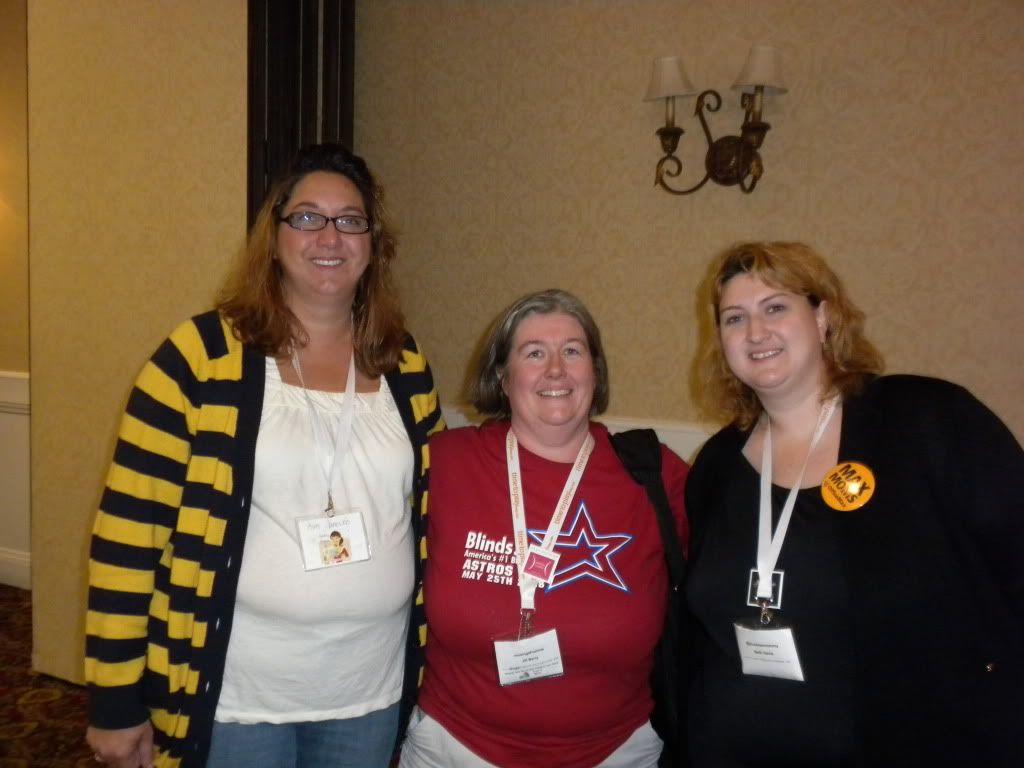 Photo: On the last day, with @CraftyMamaof4 and @PlusSizeMommy on the last day of TypeAMom '09.

TypeAMom is special to me. TypeAMom was the first site where I applied for a job. It was a writing position. I was an English major who fell in to publishing. For years I edited other people's writing. I never felt ready to take the plunge in to writing.
After several months of regular writing on this blog, I dipped a tentative toe in to the writing pool. I knew I was ready. I had successfully run the gamut of a graphic design and writing class and lived to tell the tale. The class was a doozy as far as the graphics component, but the writing part was surprisingly fun. I designed posters, marketing materials, and ads. I came to realize that without good writing even the most successful campaign will falter. Now I am not saying that I am a good writer. But, as an editor for a number of years I know good writing when I see it. Let's say I am a writer who is moving in the direction of proficiency.
Writing for TypeAMom allowed me write about topics near and dear to me in a safe environment. After a few weeks of regular writing, I applied for the position of Preteens Editor. I was thrilled to accept the position.
When I first heard about TypeAMom '09, I was certain I would not be able to go. The odds were stacked against me until a few weeks before the conference a good friend encouraged me to consider attending. I had a conference pass, but needed a push to obtain sponsorship for travel and hotel.
The TypeAMom Conference was all I expected it to be and so much more. I met so many people — bloggers, marketers, women who run networks, and local Asheville business people. It was a truly remarkable experience for a new blogger like myself. I enjoyed being with my tribe — a group of people who do what I do.
I have not purchased a ticket yet for TypeAMom '10 as I am a little cash poor, but I will be going! TypeAMom '10 promises to be as good as last year and then some. From the official website…Type-A Mom Conference is a unique mom blogging conference designed to help you take it to the next level. The conference will feature some of the most influential, admired, and insightful mom bloggers talking about topics like power social networking, branding, blogging, finding your voice, and turning your passion for blogging into a real paycheck.
The TypeAMom Conference '10 will be held from September 24-26 at the Asheville Renaissance, Asheville, North Carolina.
Interested in speaking at TypeAMom '10? Apply here.
Interested in attending TypeAMom '10 Thursday through Saturday? Click here.
If you are a company looking to sponsor a blogger at the TypeAMom conference '10, let's talk about how I can help you.