A brief entry for tonight… Tired after driving kids hither, thither, and yon. Exhausted from swim team time trials. Invigorated from fab dinner with friends.
You all know that I am passionate about online safety and I promote Yoursphere to everyone I meet. Yoursphere is a site where my teen can exercise her creativity by writing and getting her peers to comment on her writing…my tween can create spheres about subjects that she is passionate about, like Converse sneakers and Silly Bandz…and my kid can play a game where zombies attack vegetables. Yes, I said vegetables! He was roaring with laughter as he told me how the zombie tried to stomp on the broccoli. Yoursphere has a little something for every kid!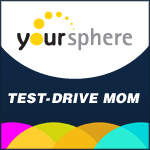 So about those two things…
The founder of Yoursphere — Mary Kay Hoal, mom of 5 and internet entrepreneur — auditioned for her own Oprah show. Yes, that's right Mary Kay wants to strut her stuff on TV! Mary Kay's idea for a show centers around finding ways for families to talk about online safety. As a mom, I know that my kids go the internet before they research a project, play a game, contact a friend, etc. I want to find ways to talk to my kids about staying safe on the internet. Mary Kay's video focuses on conversations you could have with little kids, big kids, and the moms in your neighborhood about staying safe online. To vote for her to be chosen to have an Oprah TV show, go here.
If you want to learn more about Yoursphere, go here. Yoursphere is now FREE. That's right…Free…no membership fees…no messages about "your account has expired"…just a FREE service for kids to play and parents to relax knowing their child is safe. I have a FREE code — YSMC-0051 — for you to use to get the FREE membership. You do not need the code to join, but if you use the code you will be entered in to a drawing for a $50 gift card. It's a win-win…your child or children get a FREE service to play on and you get a chance at winning a gift card! Use Code YSMC-0051!
I wrote this review while participating in the Yoursphere Test Drive program by Mom Central on behalf of Yoursphere. I received a free lifetime Gold membership on Yoursphere.com, Yoursphere t-shirts, and a $50 American Express gift card to facilitate my review.