I hate to show my age, but when my oldest two were babies we used a….dare I say it…rectal thermometer. Eeek. I don't even know if there were other thermometers in the late 90s. I will wager that some moms used glass mercury thermometers. I know this because I was given one as a shower gift. #oldefogey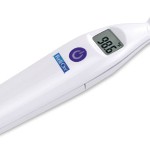 The Temple Touch Thermometer uses a heat sensor that rapidly scans the heat from the blood vessels to the skin surface. It translates the heat from the blodd vessels to show an accurate body temperature. The Temple Touch Thermometer is made by Relion. It is sold exclusively in Walmart and Sam's Club. Relion knows social media — Twitter and Facebook.
The Temple Touch Thermometer is new. It is listed on the website as $9.94. Cheap enough that you could buy one for home and one for the diaper bag. I know that I have been away from home with a sick child and not known if the child was sick or just hot from too many layers or a very heated room.
Giveaway for Musings from Me readers! Since I use a thermometer much less since my kids are older, I have a new Temple Touch Thermometer AND a Safety 1st Secure Solutions Childproofing Kit for one lucky reader! I was given the Safety 1st childproofing kit by Speak Now for Kids. One comment = one entry. Enter now!
– Tell me your most resourceful parenting moment. I fixed a hotel crib with a wobbly side with dental floss so that a cranky baby would go to sleep. This was the last time I relied on a hotel crib — brought playard
on trips.
– Subscribe to this blog via reader.
– Subscribe to this blog via e-mail.
– Friend me on Google Friend Connect.
– Follow me on Twitter.
– Follow Speak Now for Kids on Twitter.
– Tweet this giveaway: @MusingsfromMe is giving away a @RelionDiabetes Thermometer + Childproofing Kit! Enter now: http://tinyurl.com/yckszfc!
I was given the thermometer for review and the childproofing kit as a gift. This giveaway is open to U.S. residents only. Giveaway ends March 8, 2010, at 11:59 p.m.