I might be the lowest maintenance person out there. I'll break it down for you. I have not worn makeup since 1996. I don't blow dry my hair. And, I have yet to catch a cold by going out with wet hair…take that old wive's tale! My first thought after having laser eye surgery was "Whee, I don't need to wear contact lenses or glasses anymore!" But, there are two personal care items I must have. What are they? (BTW, am I the only person still using the term "personal care item"??)
Body lotion is a must. I have perpetually dry, chapped hands. Lotion helps keep the skin around my thumbnails from cracking. Ow and ouch. With a base of lotion on my hands and arms, the chapping is kept to a minimum.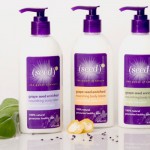 I found (seed)+ Nourishing Body Lotion to be silky and smooth. (seed)+ lotion has none of the sticky residue — hate to have lingering stickiness on my hands.
I found a 3-pack of (seed)+ Nourishing Body Lotion on amazon. Have I mentioned how much I love amazon AND adore amazon prime shipping?
SEED+ offers soothing lotions, moisturizing soaps, and unique shampoo bars enriched with nutrient-rich grape seed byproducts, which are packed with powerful antioxidants, Vitamin E, and beneficial essential fatty acids, ingredients shown to promote healthy skin and help prevent premature aging. For other (seed) products go here.
Giveaway for Musings from Me readers! I have (seed)+ prize pack with a full-size of the body lotion, soap, and shampoo bar, for one winner. One comment = one entry. Enter now!
– What is your favorite way to relax? I love watching a movie.
– Subscribe to this blog via reader.
– Subscribe to this blog via e-mail.
– Tweet this giveaway: @MusingsfromMe is giving away a @seedpower gift pack of lotion and soaps! Enter now: http://tinyurl.com/yaelgmu!
– Follow me on Twitter.
– Follow on twitter: @seedpower.
– Fan join the (seed)+ Facebook fan page.
I was given a prize pack of a full-size body lotion, soap, and shampoo bar for my review. Giveaway ends December 16 at 11:59 p.m. Open to U.S. residents only.