I joined a membership warehouse back in the late 80s…before I got married. I didn't join Costco or Sam's or BJ's. I joined Pace Membership Warehouse at the Laurel, MD, location. Same membership card with excellent savings. Same warehouse with long aisles and cavernous ceilings. The only difference is that back then most members owned restaurants or catering businesses. It was impossible to buy a jar of mustard. You had to buy a plastic keg of mustard. In fact, all the products were so huge that there were no shopping carts, only flat-bed carts usually overflowing with cases of water, giant cans of beans, and of course, mustard kegs.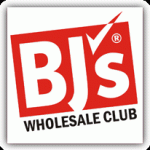 Shopping at warehouses is a different experience 20 years later. BJ´s Wholesale Club is a one-stop shop that offers great savings (more than 30% over supermarkets) on the highest quality items, carries family-friendly supermarket sizes and accepts all manufacturers´ coupons.
Right now, BJ´s is offering a 60-day FREE Trial Membership that can be used at any BJ´s club. For two months, you can enjoy great deals on top national brands and general merchandise. If you decide that you want to continue to save money on great products for longer than the trial period, ask an associate at the club about how to take advantage of the special new-member *paid offer for $45, which includes a $10 coupons and an extra two months of membership. If you sign up for the offer, you also will receive:
A Member Savings Book with more than $1,000 in coupons and instant rebates
"Sign up and Save" coupons worth $117 in savings
2 cards (one for you and someone else in your household)
A no risk 100% money back guarantee on the fee if you are not satisfied
*Paid offer can vary by Club.
Click here to locate your nearest club: http://www.bjs.com/general/locator/index.
This is a great opportunity to stock up and save on everything you need for the upcoming holidays. Whether it´s seasonal decorations, gifts for everyone on your list or delicious food for parties with friends and family, now is a terrific time to take advantage of the savings. Check out some of the newest items from General Mills to hit shelves and sure to be useful during the upcoming months:
Nature Valley Nut Clusters – 100% Natural, bite-sized clusters with granola, nuts and a touch of honey – and a resealable package which makes it great for sharing
Progresso High-Fiber Soups – This 6-pack of soup is a great way to get your fiber with the great taste you know and love from Progresso
Green Giant Complete Skillet Meal – A convenient and great tasting solution for a quick and delicious dinner for the family
Pillsbury "Big Deluxe" Chocolate Chip Tub – Perfect for entertaining or as an everyday treat
Giveaway for Musings from Me readers! Want to win a $25 BJ's gift card which you can use with the 60-day free trial membership! One comment = one entry. Enter now!
– What is your favorite item to buy in bulk? Soda — love the Diet Pepsi cube!
– Subscribe to this blog via reader.
– Subscribe to this blog via e-mail.
– Follow me on Twitter.
– Tweet this giveaway: @MusingsfromMe is giving away a $25 BJ's gift card + free trial membership! Enter now: http://tinyurl.com/yexc878!
– Fan me on Facebook.
In order to do my review, I was given a free trial membership, a gift card, coupons, and information provided by BJ's Wholesale Club and General Mills. This giveaway is open to U.S. residents only. Giveaway ends December 16 at 11:59 p.m.