I don't know about you, but I live in a perpetual state of motion OR I am fast asleep in a chair/in bed/on the floor. There is no middle ground…I am either working and multitasking and crazed or I am snoozing and drooling and snoring. I am a harried mom! I'll bet you are, too!
About a month and a half ago, I read an e-mail that made me do a double take. A person I follow @RoleMommy AKA Beth Feldman, wrote about her new book due to be published late 2009. My first thought was "I can help her get the word out about this book!"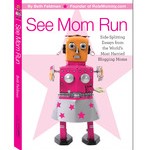 Hello, super amazing self-confidence where have you been all my life!? I don't know how or when it happened but the new me AKA @MusingsfromMe is able to confidently say what she can do AND do it whereas the old me was wishy washy!
For the last 1.5 months I have tweeted about See Mom Run: Side-Splitting Essays from the World's Most Harried Moms
online. I loved every minute of it…still do! From tweeting about the See Mom Run website to seeing the number of Twitter and Facebook followers rise to retweeting what moms think about the book — fun!
See Mom Run is – touching – hilarious – poignant – funny – all in the same moment. But, isn't that just like motherhood? Happy and joyful one moment when the baby finally takes a nap or the elementary schooler ties his shoes, but sad and cheerless when your tween forgets his homework or your teen gives you an attitude.
Beth Feldman's book covers all phases of motherhood from pregnancy to grandmotherhood and all phases in between. Feldman and her co-contributors — over 25 amazing, accomplished, talented women — write about their most harried mom moments, but also share their personal voice and philosophies on life, motherhood, and being a strong woman.
Giveaway for Musings from Me readers! I'm giving away one copy of See Mom Run: Side-Splitting Essays from the World's Most Harried Moms. One comment = one entry. Enter now!
– All day Thursday and Friday, tweet with the hashtag #seemomrun for a chance to win one copy!
– What is your most harried, crazy mom moment?
– Subscribe to this blog via reader.
– Subscribe to this blog via e-mail.
– Tweet this giveaway: @MusingsfromMe is giving away a copy of See Mom Run by @rolemommy + friends! Enter now: http://tinyurl.com/yhktkyq! #seemomrun
– Follow me on Twitter.
– Follow See Mom Run on Twitter.
I was given a copy of the book for review. I implemented a social media campaign as part of my promotion of this book. This giveaway is open to U.S. residents only. Giveaway ends December 20 at 11:59 p.m.