I grew up watching Schoolhouse Rock on TV. Was it on the Electric Company? My memory is hazy. What I do remember is how catchy the tunes were. I learned grammar rules and prepositions and a host of other facts from watching the Schoolhouse Rock shows. You know I think Schoolhouse Rock was shown as snippets or short commercials between shows.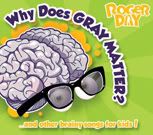 My kids and I recently listened to a CD that reminds me very much of the old Schoolhouse Rock episodes. Roger Day is a witty, clever singer of children's songs. His CD — Why Does Gray Matter? — is a compilation of my favorite type of kids' songs. What is my fave type of kid's songs you ask? Why songs that Mom/Dad and the kids can listen to without Mom/Dad lunging for the Off button. I was never fan of the purple dinosaur or the four Australian guys, if you know what I mean.
Here's a bit about Roger Day… Parents' Choice® Gold Award winning kids' musician Roger Day scales the pinnacle of braininess with the release of his fourth CD and first "theme" album, Why Does Gray Matter? … And Other Brainy Songs for Kids! The disc offers fourteen Roger Day originals, each one devoted to the wonders and mysteries of the human brain, encouraging kids to "use their noodles" for creative problem solving and letting them know that it's cool to be smart! Along the way, they'll also learn some fun facts about the brain.
In the spirit of Schoolhouse Rock and Bill Nye the Science Guy, Why Does Gray Matter? includes "Sara Bellum, the Brainy Girl," "It's a No Brainer" (literally singing the praises of math), and "Brain Food – Eat it Up!" which uses omega 3, lypocene, and green tea in a B-52s inspired rocker about the best foods for brain health. The "Left Brain/Right Brain" song illustrates the different functions of each side of the brain: the left brain is a Bach-inspired baroque string quartet and the right brain – naturally – is a bad British punk rock band.
Roger Day co-wrote "The Brain Train" with Dr. John Paul Bouffard, Chief Neuropathologist at Overlook Hospital in New Jersey, which takes a peek inside Ringo Starr's brain during that nanosecond from Ringo's first thought about playing the drums to showtime at Shea Stadium. Roger says, "I'm confident this is the first – and probably last — children's song that uses words like 'corpus callosum' and 'deep basal ganglia' in the lyrics!"
Visit Roger Day's website to hear his songs. Go here for RogerTube videos. Buy all 4 of Roger Day's CDs here.
Want to win Roger Day's Why Does Gray Matter? …and Other Brainy Songs for Kids!? I have one CD for a lucky Musings from Me reader! One comment = one entry. Leave a comment.

What was your favorite song from childhood? Leave a comment.
Visit Roger Day's website. Leave a comment.
Follow me on twitter. Leave a comment.
Subscribe to my blog via reader. Leave a comment.
Subscribe to my blog via e-mail. Leave a comment.
Friend me on Google Friend Connect. Leave a comment.
Fan my blog on Networked Blogs. Leave a comment.
Fan my blog on Facebook. Leave a comment.
I was provided with the CD. The opinions expressed in this post are my own. Giveaway is open to U.S. residents only. Giveaway ends May 12 at 11:59 p.m.