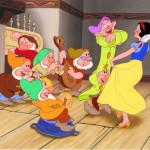 I can't remeber the last time we watched Snow White and the Seven Dwarfs
. With a kid, a preteen, and a teen, we have a hard time finding time to sit down as a family and watch a movie. We're always running to volleyball to flu shots to school or to bed.
After dinner tonight I was determined that we were going to watch Snow White and the Seven Dwarfs — Diamond Edition
! I was interested to see my preteen and teen's reaction to the movie.
Would both think it was too babyish? Would the teen kick up a fuss and want to watch something else? Would my 6-year-old think the movie was too girly/princessy? I want our family to watch a movie together, but it helps to find a movie that all of us like. Snow White was an excellent choice for our family movie night!
Here's what the Musings from Me family loved:
– The switch to HD has enhanced the graphics. The colors are crisp and pop out — an improvement from the Platinum Edition DVD that we own.
– The storyline is complex enough to keep the older ones occupied while the younger one was entertained.
– My teen was a little grossed out at the part where the dwarfs decide to keep Snow White in a glass coffin. I shushed her!
– The preteen was worried she would be scared by Snow White — she was tiny the last time we watched and did get freaked out by the witch.
– I wondered if the animators of the rabbits and the deer were the same ones who animated Bambi
. The rabbit was thumping his tail like Thumper.
– The kid loved the entire film — animals, Snow White, and all.
– We all got a kick out of the cleaning scene. My son was howling about the deer licking the plate. I want the squirrel to dust my house using his tail.
All in all a huge thumbs up for this movie from our family!
Thank you to One2OneNetwork for giving me this film for review.