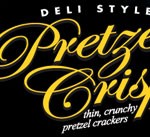 I tweeted to win a box of Pretzel Crisps back in July. In blogging terms that is so last century.
I'm here to tell you — Pretzel Crisps are delish! I tested the bags out on my family when we were on the beach. All agreed that Pretzel Crisps make a great snack on or off the beach.
Some details from the Pretzel Crisp website:
– Irresistibly Crunchy… Irresistibly Healthy, too.
– 0 Trans Fat
– 0 Saturated Fat
– 0 Cholesterol
– baked pretzel goodness
– 6 delicious varieties — Original, Everything, Garlic, Honey Mustard & Onion, Buffalo Wing, and Chipotle Cheddar — I tried all flavors except the Chipotle Cheddar…this must be a new flavor!
Want to learn more about Pretzel Crisps — join here!