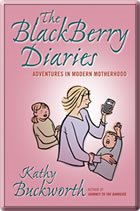 One benefit of being a mommy blogger? PR people send me books to review. I love books! So this situation is a win for me. If I like a book, you'd better believe that I will tell everyone I know about the book. If I don't like the book, well, you might hear chirping…
I was recently sent
The BlackBerry Diaries: Adventures in Modern Motherhood
. When it came time to pack for my overnight trip to
Minneapolis,
I packed only this book. Now if you know me you know that packing only one book is unusual. I like to have a stack with me. Something told me that I would only need one book. I was right — I loved the book.
This book had me laughing outloud, which was a little awkward as I was crammed in to an economy seat on a Sunday morning flight. I tried to stifle my laughter, but Kathy Buckworth's descriptions of family life were just too like my own life.
Kathy writes about how her life changed once she acquired her BlackBerry. Her BlackBerry — otherwise known as BB –has become an invaluable scheduling tool as she coordinates her work life as a writer and broadcaster with her home life as a mom to 4 children. She uses the BlackBerry as a lifeline to her kids, husband, and home. Her BB is her companion at frigid hockey arenas. To Kathy, her beloved BB is a sort of 5th child.
I, too, am attached to my cell phone. The cell phone purchased in 1995 as the "emergency only use if I am in labor" phone, is now my go-to communication device to keep in touch with my husband, my teen, my preteen, and my kid (all of us have cell phones except the kid).
I'm on my 4th or 5th phone, but my latest phone is not connected to e-mail or internet. This lack of connectivity never bothered me until I veered in to the world of social networking last year. I NEED a internet/e-mail-capable phone! I found it funny to read this book about a BlackBerry while I was travelling on a plane without an internet/e-mail phone OR a laptop. I am now resolved to trade in my battered phone ASAP. Connectivity here I come!
I had the pleasure of interviewing Kathy Buckworth by phone as she promotes The BlackBerry Diaries: Adventures in Modern Motherhood. Here's my interview with her. For the purposes of this interview, I will refer to the BlackBerry as "BB."
Musings: How long did it take you to write the BlackBerry Diaries: Adventures in Modern Motherhood?
Kathy: 1 year.
Musings: How did you go about getting permission to use the BlackBerry name in the title of the book?
Kathy: At some point in the writing process, I got legal permission from BlackBerry's manufacturer Research In Motion to use the name.
Musings: How does the BB help you in your everyday life?
Kathy: There are tons of apps available for BB, such as, Facebook, twitterberry, snap to twit, GPS (but GPS came with my BB), besides e-mail and internet. I downloaded a flashlight.
Musings: As you were writing the book and before you started writing the book, did you know many people, moms in particular, who had BlackBerries?
Kathy: Most of the people I know with BBs work corporately. Almost all WAHMs use BBs. I would think that SAHM are the least likely to have BBs.
Musings: Do you ever feel like turning the BB off?
Kathy: I go from one extreme to the other with the BB. I could turn it off, but choose not to.
Musings: What prompted you to get a BB in the first place?
Kathy: I inherited my husband's old BB. I intended to use it for work purposes, but the BB has proved to be a huge help as I stay in touch with the home and the kids' activities. Also, the BB has GPS — I never get lost. Also, if I go out without my BB, the e-mails are there in my inbox when I get home.
The BB works well as I blend my day. I can manage it all with all the functions of the BB.
(Note from Musings: I would die without my GPS.)
Musings: In the book you refer to the BB as your child.
Kathy: He is called Seamus. I like to think of him as my 5th child. Seamus is my toddler. I think of the BB as my toddler since I am always holding the BB — like I would hold the hand of a small child.
Musings: What do you think is the best way to communicate using your BB?
Kathy: Absolutely, by texting. Texting is a good way to keep in touch with my teens since teens text more that calling each other on the phone.
(Note from Musings: I have been a foot dragger on the issue of whether my teen should text. When she first got her cell phone, we did not activate text. I thought it better to keep her away from the potential for "teen drama." I was glad about my decision after hearing about a couple of malcious rumor mongering incidents and one incidence of "sexting." Now that my teen has had her cell phone for about 20 months, I have decided to let her have a texting phone. I believe that she is now responsible enough not to abuse the texting feature.)
Musings: Why did you decide to use the diary format for The BlackBerry Diaries: Adventure in Modern Motherhood?
Kathy: I write in the first couple of pages of the book that I considered for a few moments that I might write the book on the BB — too much hand cramping! After some thought, I realized it was not feasible. I started writing a diary. One of my editors suggested I do it as a blog format since the book is a series of short entries. I call my writing style a "Plog" — a paper Blog.
I like the idea that this book is written in a diary format, which is different from other books of its type. It has a bullet list format. I am the "queen of the bullet lists." The book ends, but the writing continues on my blog as a way to engage readers. The book lends itself to carrying on the purpose of the book through the blog.
Musings: How did you use the BB to write the book?
Kathy: In the end I didn't write the book on BB. My hands would seize up. I did use the memo function by sending myself e-mails. I used the memo function as a note gathererer. I always joke that I can stuff as much in to my BB and it still fits in purse.
Musings: Do you use Facebook?
Kathy: I am a latecomer to Facebook. There is a Facebook page for this_book.
Musings: In the book, you mention spending alot of time at hockey arenas while your children play games and practice. Can you get good reception at the hockey arenas local to you?
Kathy: Yes, I spend a lot time hockey arenas, out-of-town tournaments, or parking lots. Moms wait alot. I use my BB while waiting.
Musings: Do you take a break from your BB during vacations?
Kathy: In my part of Canada we call ourselves "cottage spongers." We spend weekends visiting friends who have cottages. Each time we go back the cell phone reception is better. We visit Ontario, Georgian Bay, Algonquin, Mascopas, lots of lakes. I joke that the BB will not take over life.
Musings: I noticed in the book that you wrote parts to relate to both Canadian and American readers. You mention Labor Day which is the same, but then refer to the fact that Canada celebrates Thanksgiving a month earlier.
Kathy: The other issue that came up is the Canadian use of British spellings. I decided with my editors, to retain the British spellings, in fact my new book will be titled: Shut up and Eat: SavoUring the Joy of Family Eating.
Musings: Where else do you write?
Kathy: I write a column called Funny Mummy, which is syndicated to 25 -30 websites. The column is often picked up in local publications. I like to share my insights on motherhood and being a suopermom with Canadians.
Musings: As a new freelance writer, I encounter friends who don't think that writing is a job. Do your friends think that you "work" as a writer?
Kathy: I worked for 20 years in corporate marketing. Some friends see my new career in writing as a job. Others will say when are you going to come back to work.
Musings: What does your home office look like?
Kathy: My home office has lots of stuff that would not be in work office, such as a Lego car, salad spinner, and home files.
Musings: When you cannot work at home. where do you go?
Kathy: I escape to Starbucks. I go to different Starbucks so that people don't recognize me. I also find myself chatting to the staff too much. I mentioned to a friend that I was working at Starbucks. She said "Oh I guess writing did not work out." She thought I was a barista!
Musings: I noticed a common theme of avoiding school activities. You mentioned finding excuses not to join school organizations. In the end did you get sucked in to volunteering at your children's school.
Kathy: When I first decided to stay at home, I wanted a volunteer job at the school where I did not deal with kids, parents, or teachers. I tried to be the school banker, then helped kids read, but I had a hard time working my writing in to the school schedule. I often could not come in to school.
As a compromise I now work for the board of Toronto Symphony as a volunteer. I do a lot of work. As a parent with a children in school for the last 13 years, I will do work at home on school projects or go on field trip as I can take my BB along!
Musings: What was your reason for quitting your corporate marketing job?
Kathy: When I decided to quit my full time job I had 3 goals:
– spend more time with kids
– do more writing
– pick up volunteer work
I am in charge of marketing for Toronto Symphony — I feel needed.
Musings: What is your next project?
Kathy: I am writing a book called Shut up and Eat: Savouring the Joy of Family Eating. It is due to be published in March 2010. I am about 90 percent done. It is all about feeding kids, nutritiously and healthfully, including a few recipes, eating out, eating in, and frequently asked questions. I put a call out on twitter for suggestions, which drew a tremendous response.
Want to win a copy of the book? I have a couple of copies to giveaway. Leave a separate comment for each entry. Make sure you include your e-mail address in one of the comments.
– Leave a comment about your funniest Mom moment involving an electronic device. Mine was when my son stirred a glass of milk with the cordless phone.
– Follow me on twitter: www.twitter.com/musingsfromme.
– Follow Kathy Buckworth on twitter: www.twitter.com/KathyBuckworth
– Follow BlackBerry Diaries on twitter: www.twitter.com/BBDiaries
– Become a fan of BBDiaries on Facebook:
– Tweet about this giveaway. Leave a comment with the link to the tweet.
– Subscribe to this blog via reader.
– Subscribe to this blog via e-mail.
Don't want to wait to win a copy, click here for The BlackBerry Diaries: Adventures in Modern Motherhood
. The book is available for $15.99.
A copy of this book was provided for me to review. I was not offered compensation for my review. Thank you to TwitterMoms for listing the availability of this book for review. The giveaway is open to U.S. residents only. It closes on September 14th at 11:59 p.m.