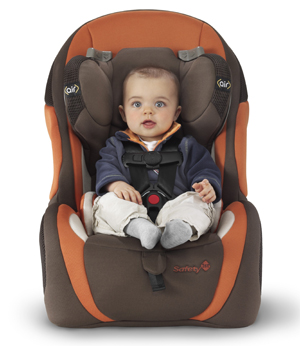 I don't know a person out there who does not worry about how safe their child's car seat is in the event of an accident. I've had one accident — touch wood, touch my desk, touch my chair leg — and thank goodness the children were not with me. I ploughed in to the back of a tiny Mazda Miata — I was going a little fast and the driver of the Miata stopped quickly at a red light. As the person behind, I was at fault even though I attempted to slow down.
Safety is first in our family. All children ride in infant car seats, toddler car seats, or booster seats until at least age 8 or beyond depending on the size of the child. After age 8 all children ride in the backseat of the car/van while wearing a seatbelt. I recently allowed my oldest to sit in the front passenger seat of the minivan as she finally weighs enough — she is 13.
I've had many an argument with a child who thought he/she was too big for a booster seat since friends do not use one. I tell my children that in OUR family we ride in the car with safety first and foremost. Only the kid rides in a booster seat at this point. He's 6, but you would be surprised at the number of little kids his age who do not ride in any type of car/booster seat. Not a safe situation for me.
I first saw the Safety 1st Air Protect Car Seat at a local tweetup prior to BlogHer. Safety 1st was the sponsor. Many of the moms were eyeing the car seat, including me. Even though I have no baby to put in the seat, I wanted the car seat. It has everything you could want. An adjustable headrest to grow from baby to toddler. A padded side impact headrest, which looks great for napping as well as highly safe in case of car crashes. In short, the Safety 1st Air Protect Car Seat would have been my go-to seat in my baby/toddler/preschooler years.
Although I did not receive a car seat for review as I don't have a baby/toddler/preschooler, I thoroughly inspected the Safety 1st® Complete Air™ Convertible Car Seat with Air Protect™ Side Impact Technology at the tweetup gathering of mommy bloggers.
The details on this highly safe car seat:
Is perfect for infants rear-facing from 5-40 lbs. and 19″-40″ and toddlers forward-facing from 22-50 lbs. and 34″-45″.
Air Protect™ Revolutionary Side Impact Technology: Breakthrough system shields head and immediately reduces side impact forces through the precise release of air.
QuickFit™ Harness System adjusts harness height from the front in one easy step without uninstalling from the car.
Harness accommodates children up to 50 lbs.
One Click LATCH installation system allows for faster and easier installation when moving between vehicles.
5-position adjustable headrest easily accommodates your growing child.
Removable cup holder.
Styles: McKenna (Black/Grey), Harvest (Brown/Orange)
MSRP $249.99 at Babies"R"Us
I would love to give away a Safety 1st Air Protect Car Seat, but I do have the next best thing: A Safety 1st Road Trip Safety Basket for one lucky reader!
Travel is fun and exciting, but it is important to first ensure the safety of your little ones in the back seat before you are able to sit back and relax.
The basket includes items from Safety 1st's ProGrade line, all of which are crash tested by the Safety 1st team of certified Child Passenger Safety Technicians. ProGrade items include the See Baby Soft Mirror (for the backseat headrest), the Secure View Mirror (for the rear view mirror), the Soft Solution Roller Shade, the famous "Baby on Board" window sign, and a $25 gas gift card to fill your tank!
To enter this giveaway leave a comment for each entry. Don't forget to leave your e-mail in one of your entries.:
– Leave a comment with the funniest thing your child has said while in the back of the car. My toddler once said "baby's eye." I said "Yes, baby's eye." I looked in the rearview mirror and the toddler had her finger on the baby's eyeball. Needless to say I moved her car seat away from the poor baby.
– Follow me on twitter: @MusingsfromMe. If you want me to follow you, leave your twitter handle.
– Subscribe to this blog via reader.
– Subscribe to this blog via e-mail.
– Fan my page on Facebook.
I was not paid to do this review. Thank you to Safety 1st for letting me do this giveaway. The giveaway is open to U.S. residents only. It ends September 14th at 11:59 a.m.