As a child I can count on two hands the movies I saw:
– a Bond film in the 70s
– Jaws — scared the life out of me
– Airplane — my grandmother took me as she thought it was a kid's film…uh oh!
– Sinbad and the Seven Seas (?) — freaked out by weird many headed creature and I think it was in 3D.
– ET — saw in England a full year after it's release in the U.S.
– and a handful of other films.
I spent part of my childhood in New Jersey where I only remember seeing movies at a drive-in movie theater. I remember my mother getting us ready for bed before taking us to the drive-in movie theater. I wonder if we stayed awake for the whole movie? I have no recollection of anything other than the microphone thingie attaching to the window. Don't recall eating popcorn.
The other part of my childhood was spent in England…Wilmslow to be precise. Our small town had a small cinema/theater. It had one screen. Typically a movie would play for about 2 months before another film was shown. Also, if a play was running the movies would not be shown. I recall very little about the actual movies I saw, but I do recall during kids movies that the kids would throw popcorn around. Now this was England and the popcorn was caramel corn. Can you say sticky? What with the spilled drinks and the layers of popcorn, the floor must have been a mess to clean up. Anyone remember "Kiaora — the drink on a stick" — deliciously gooey, sickly sweet orange ice pop.
In the Musings from Me household we love seeing a movie in a movie theater. For all of us to go to the movies is expensive so I look for deals or we go to a matinee.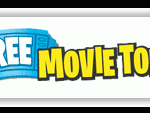 Starting in November, you can receive a free movie ticket when you purchase two specially marked packages of General Mills' Cereals. After purchasing two cereals, visit generalmills.com/moviecash to enter the code found inside each box of cereal and print your free movie certificate good for admission to any movie. Participating brands include select sizes of: Honey Nut Cheerios, Cinnamon Toast Crunch, Lucky Charms, Trix and Reese's Peanut Butter Puffs. To find a participating theater near you, log onto http://emoviecash.com/dis_locator/.
My friends at MyBlogSpark gave me 4 free movie passes. We saw Where the Wild Things Are
— which was a treat for all of us. Such a good film…nothing like the book, but extremely funny to listen to the interactions between Chris Cooper and James Gandolfini. Want a chance to go to the movies?
Giveaway for Musings from Me readers! I have a family4-pack of tickets and a coupon for a free box of General Mills cereal for one lucky reader. One comment = one entry. Enter now!
– Tell me about your first movie theater memory.
– Subscribe to this blog via reader.
– Subscribe to this blog via e-mail.
– Follow me on twitter.
– Tweet this giveaway: @MusingsfromMe is giving away a 4 FREE movie tickets and a coupon for FREE box of cereal! Enter now: http://tinyurl.com/y8va2cs!
– Fan me on Facebook.
General Mills provided me with 4 free movie tickets and a coupon for a free box of General Mills cereal through the MyBlogSpark program, hoping that I might write about it. This giveaway is open to U.S. residents only. Giveaway ends November 30 at 11:59 p.m.